This forecast update covers far southern Illinois, far southeast Missouri, and far western Kentucky. See the coverage map on the right side of the blog.
Tuesday – Cloudy with below normal temperatures.  High temperatures will be in the 40's.  North winds becoming west/southwest winds at 5-10 mph.

Morning School Bus Stop Weather –  Cloudy and cool.  Temperatures at the bus stop will be in the lower 30's.  East winds at 5 mph.
Afternoon School Bus Stop Weather – Cloudy and cool.  Temperatures at the bus stop will be in the lower to middle 40's.  Southwest winds at 5-10 mph.

Tuesday night – Cloudy and cool.  Overnight lows in the lower 30's.  Southwest winds at 5 mph.
Wednesday – Cloudy and cool.  High temperatures around 50 degrees.  West winds at 5-10 mph.

Wednesday night – Cloudy with a small chance for a few showers – late.  Low temperatures will be in the middle 30's.  Northeast winds at 5-10 mph.

Thursday – Cloudy with a chance for a shower.  Cool for this time of the year.  Well below normal temperatures.  High temperatures will be in the middle 40's.
An explanation of what is happening in the atmosphere over the coming days.
Highlights:
1.  Below normal temperatures this week (go figure)
2.  Clouds and additional rain chances over the coming 7 days
How did you like that temperature drop on Sunday afternoon into Monday morning?  Check out this graphic showing just how many degrees temperatures fell.  Quite amazing to watch a front like that move through our region.  Temperatures ahead of the front were in the 60's and 70's.  Behind the front temperatures fell into the 30's.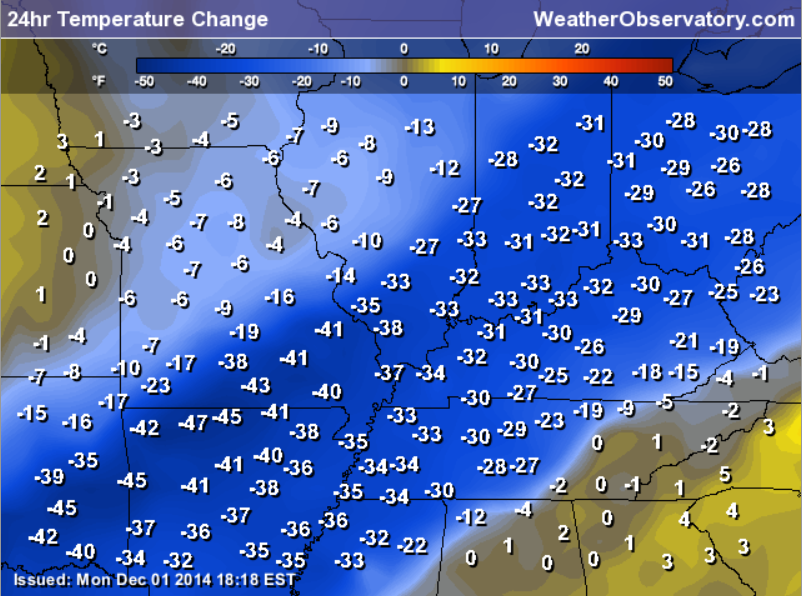 Here is the temperature fall at The Weather Observatory on Sunday night.  The graph begins at 9 pm and ends at 12 am.  Quite the drop.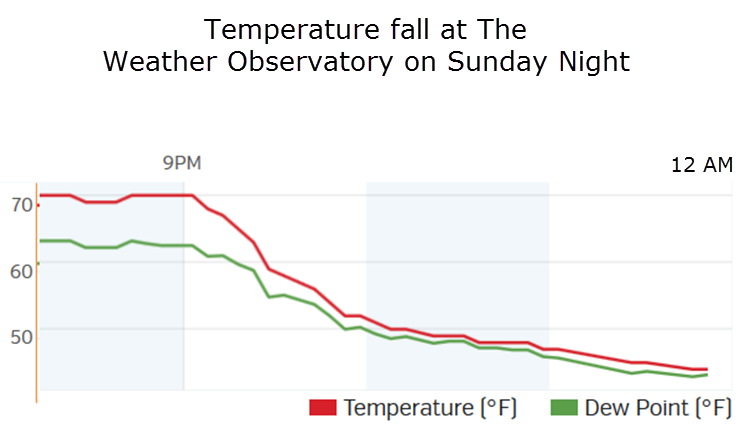 Our third winter weather event of the season has come and gone.  Freezing rain and sleet spread across much of southeast Missouri and southern Illinois on Monday.  Accumulation of ice were in the 0.01″-0.20″ range.  Accumulations of sleet was less than 1/2″.
A few photos from some of the blog readers
De Soto, Illinois (from Sam Irons)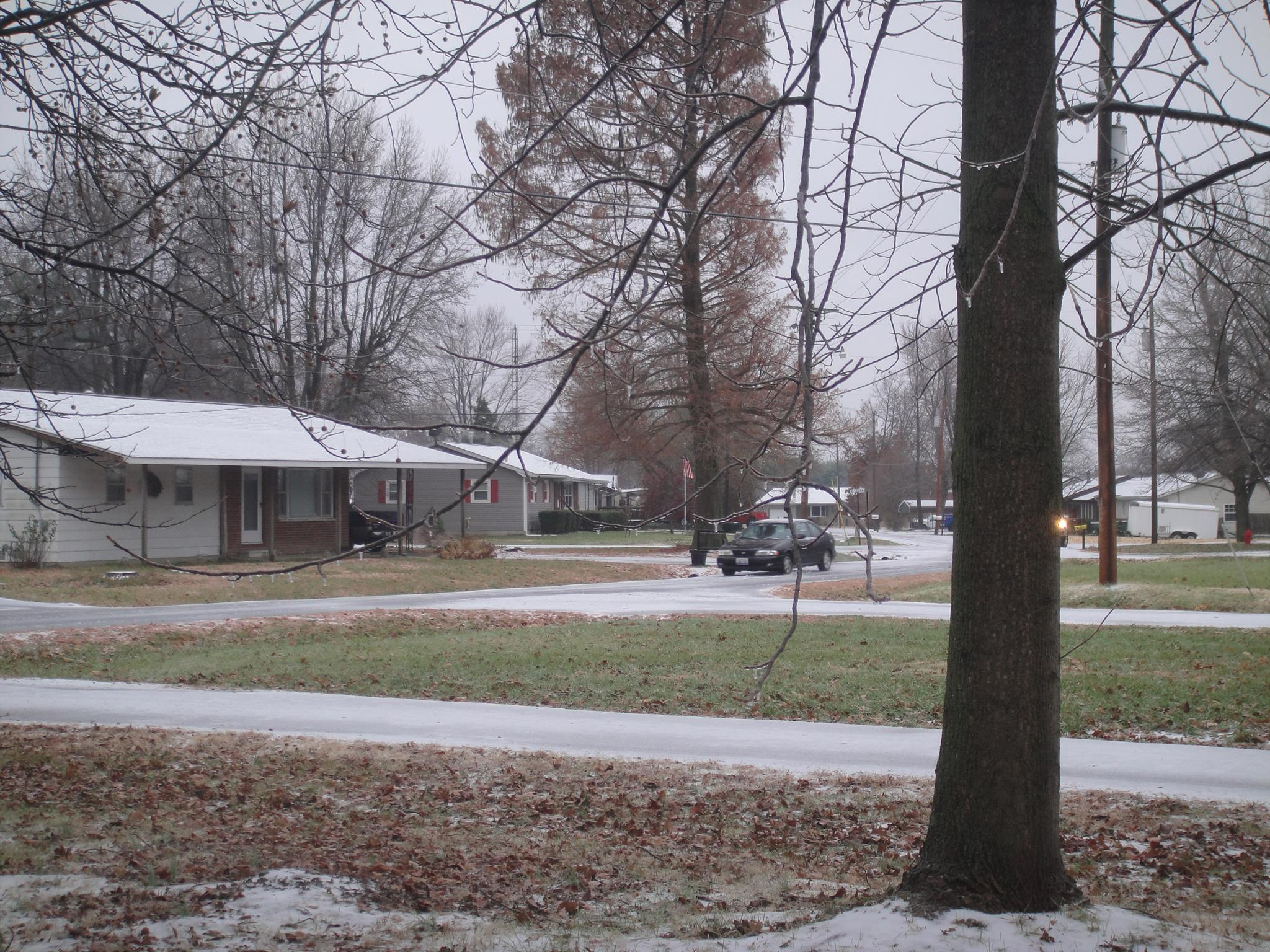 This image is from Pope County – Terry Konemann captured this photo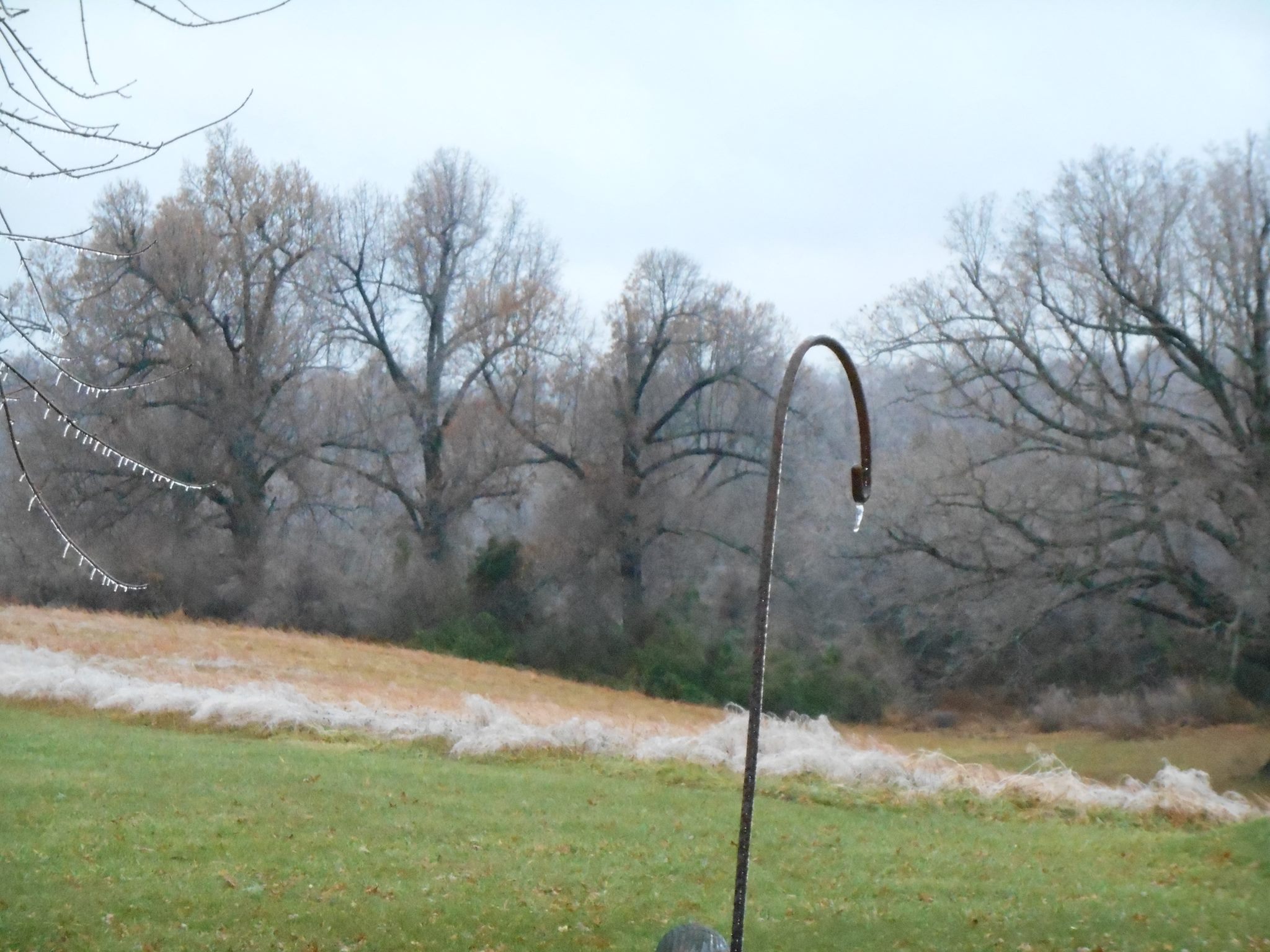 This is outside my place in Massac County, Illinois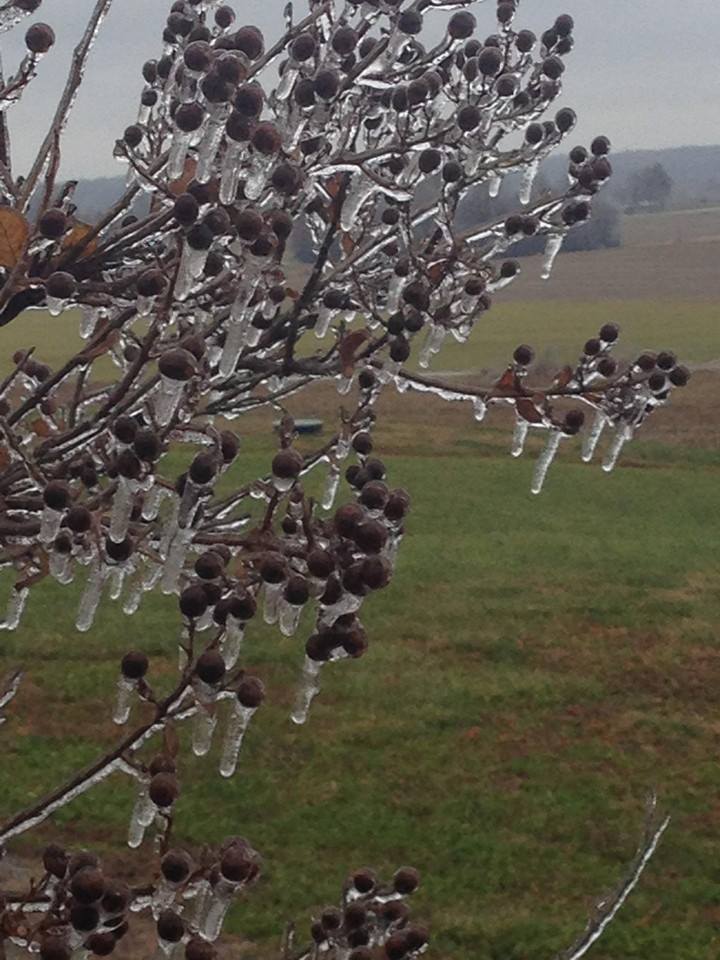 This image is from Pope County.  It was taken by Jennifer Lawson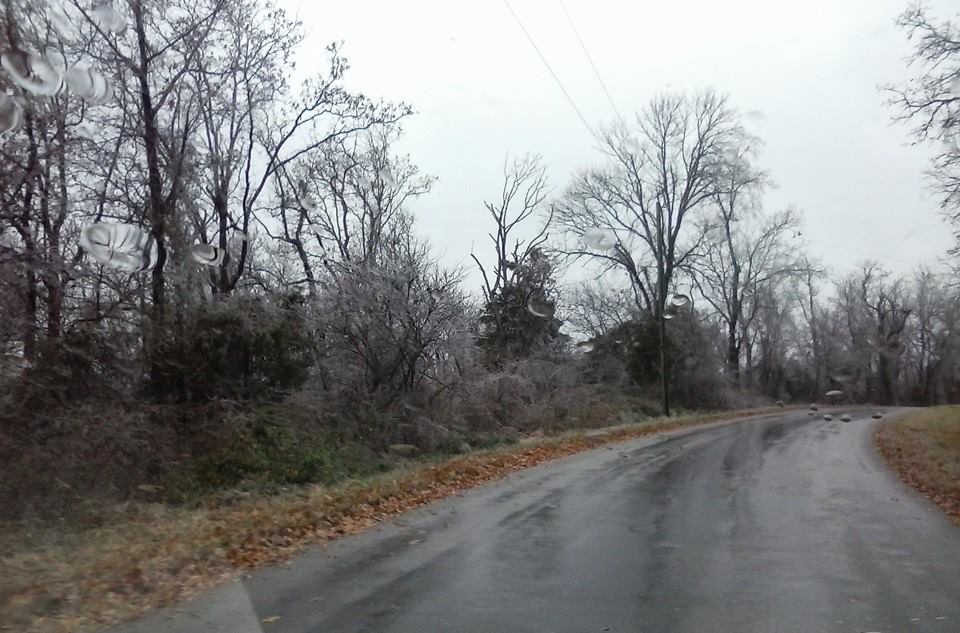 Western Kentucky had a few reports of sleet and light freezing rain.  Temperatures hovered right at or a few degrees above freezing during most of the event.  Overall, the forecast behaved about as expected.
Today will be on the cool side.  Highs will reach into the 40's.  This is well below normal (par for the course).  Normal high temperatures are around 58 degrees.
How many degrees below normal will temperatures be today?  Anywhere from 8-14 degrees below normal.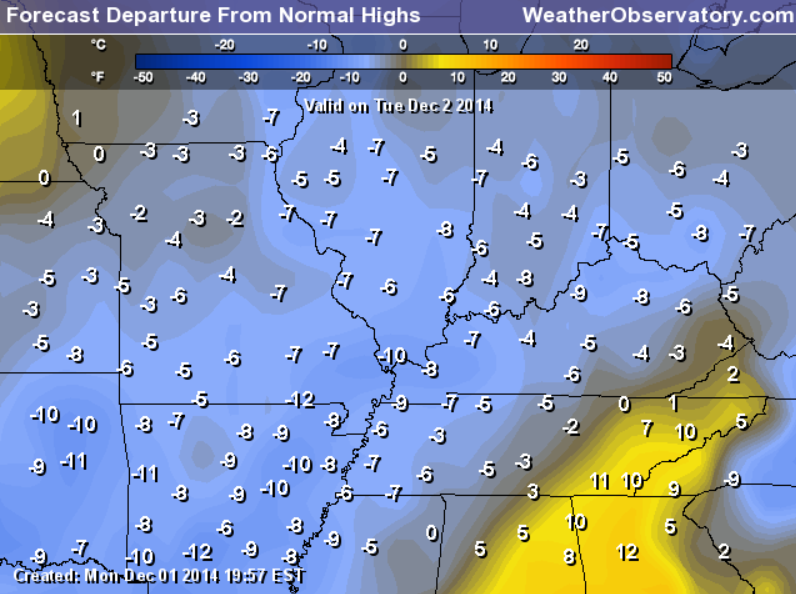 It appears that clouds are going to linger through much of this week and even into the weekend.
We are also going to have to deal with some rain chances from time to time.  The next chance of precipitation arrives late Wednesday night.  This will spread in from the southwest.  The precipitation may hold off until Thursday.  The first area to see a few showers would be southeast Missouri.  Morning data holds it off until Thursday.
A frontal system sets up over the area on Thursday night and Friday.  This will provide a decent chance of rain.  Some of the rain might be on the moderate side.  Temperatures will have warmed enough to keep that event from being frozen.
Another chance of rain arrives around Sunday night into Monday night.  This again might provide an opportunity for moderate rainfall totals.

Lowered the precipitation chances for Wednesday night.  Perhaps precipitation will hold off until Thursday.  Small chances WED night.
No serious concerns for the next 48 hours.
Watch out this morning for a few slick spots on sidewalks and roadways.
The Wild Card gives you an idea of what might change that would cause the forecast to bust. A busted forecast means a forecast that does not verify. For example, if a winter storm (the area of low pressure) shifts its track 50 miles further south than expected, then that could cause a dramatic change in how much snow might or might not accumulate.

Wild card in this forecast – rain chances on Wednesday night would be the wild card.  Small chances.  Some of the data holds precipitation back a bit longer.  Better chances arrive on Thursday vs Wednesday night.
Can we expect severe thunderstorms over the next 24 to 48 hours?  Remember that a severe thunderstorm is defined as a thunderstorm that produces 58 mph winds or higher, quarter size hail or larger, and/or a tornado.

Thunderstorm threat level is ZERO

Will I need to take action?
Watch out for black ice this morning on sidewalks and roads.  Moisture left on the roadways last night might have froze.
Please visit your local National Weather Service Office by clicking here. The National Weather Service Office, for our region, is located in Paducah, Kentucky.
How much rain should we expect over the coming days.

We are actually going to have quite a few chances for showers over the next 5-7 days.  An unsettled pattern.
If you were to add up all of the rain between now and next Monday it would total in the 1″-2″ range.  We will have to see if some spots pick up more than that.
Perhaps the best chance for moderate rain would be late Thursday night or Friday.  Another decent chance around next Monday or Tuesday.
I had to throw out yesterday's rainfall forecast map from NOAA.  It didn't quite match what I was thinking.  It had precipitation way too heavy over our region.  They issued a new map this morning.  It looks more in line what I have been thinking.  We will see how it goes.
Latest map that takes us through Monday on rainfall totals.  When I don't agree with the official maps, I usually just don't show them to you.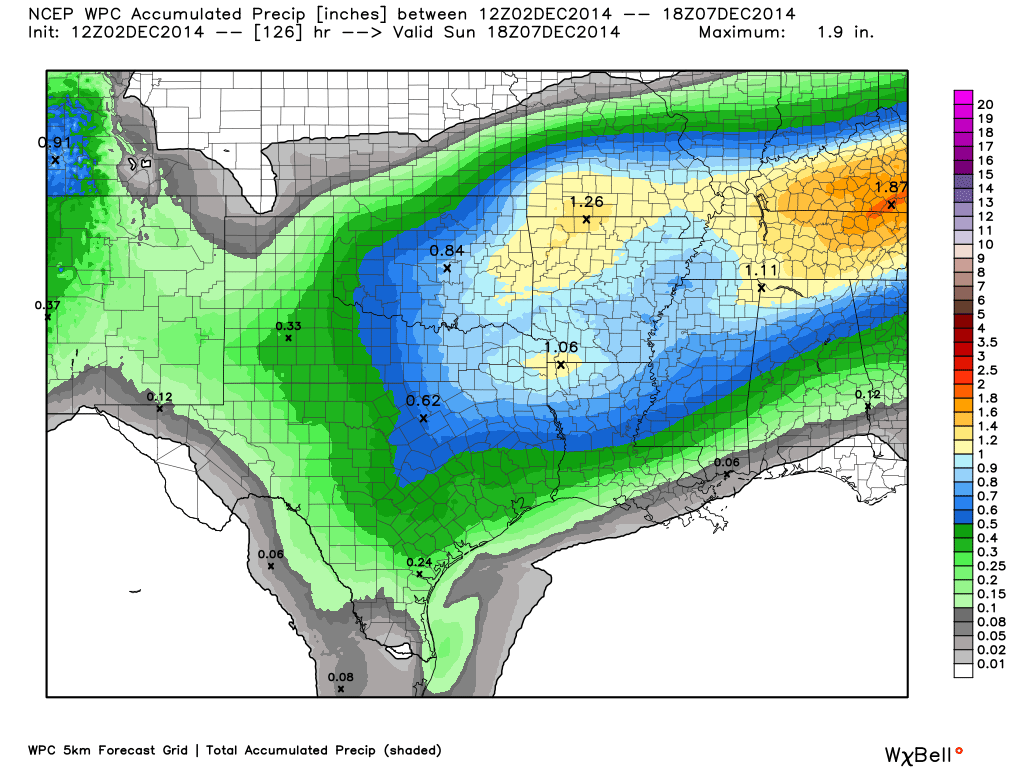 I am not expecting any snow, sleet, or freezing rain today through Wednesday afternoon.
A period of unsettled weather into early next week.  Right now I don't see any serious winter weather events.  I am watching for a colder pattern next week.  The long range models have done poorly handling the major features over the past few weeks.  They keep showing warmer weather, but that warmer weather never fully materializes.
The trends for the last 14 months have been for longer cool periods than warm periods.  The models tend to zero in on showing warmer spells than actually pans out.  In the end it is usually colder than the models show.
So, to be clear.  What the models keep showing in the 7-14 day period are well above normal temperatures.  Then as we draw closer the models start to show that it isn't quite as warm as they thought it would be.  Then once we actually are in the time frame where they showed well above normal temperatures they start to show normal or even below normal temperatures.  Will that happen again over the coming weeks?  We shall see.
Last week, at this time, the data indicated this week would be quite warm.  Now we are in that week and it isn't warm at all.  As a matter of fact yesterday, today, and tomorrow will be below normal in the temperature department.  Just an observation.  We will see what happens as we move forward into next week.
November was WELL below normal in the temperature department.  I believe Paducah, Kentucky ended up with one of the colder November's on record (in the top 3).  We will have to wait for all the numbers to be crunched for the nation as a whole.
Many of my graphics are from www.weatherbell.com – a great resource for weather data, model data, and more


This blog was inspired by ABC 33/40's Alabama Weather Blog – view their blog
Current tower cam view from the Weather Observatory- Click here for all cameras.
WSIL TV 3 has a number of tower cameras. Click here for their tower camera page & Illinois Road Conditions
WPSD TV 6 has a number of tower cameras. Click here for their tower camera page & Kentucky Road Conditions & Kentucky Highway and Interstate Cameras
Benton, Kentucky Tower Camera – Click here for full view
You can sign up for my AWARE email by clicking here I typically send out AWARE emails before severe weather, winter storms, or other active weather situations. I do not email watches or warnings. The emails are a basic "heads up" concerning incoming weather conditions.