This forecast update covers far southern Illinois, far southeast Missouri, and far western Kentucky. See the coverage map on the right side of the blog.
If you find value in this page and the other weather products on the Weather Observatory web-site then consider making a donation to keep everything up and running.  It does cost quite a bit of money each month to run the radars, data feeds, hosting of sites, and more.  You can give by visiting our donation page.
Monday – Cloudy with periods of light rain and light drizzle.  Freezing rain and freezing drizzle will be possible across parts of southeast Missouri and southern Illinois – perhaps over parts of western Kentucky, as well – this will depend on just how far south the freezing line advances.  This would mainly be in the freezing rain advisory area.  Temperatures may fall enough later today to cause the freezing rain and freezing drizzle to push a tad further south.  Highs today will be in the 30's.  Little change in temperatures through the day.  North winds at 10 mph.

Morning School Bus Stop Weather –  Cloudy and cold.  Patchy light rain.  Temperatures in the 30's.  North winds at 10 mph.
Afternoon School Bus Stop Weather – Cloudy with some light rain or freezing rain.  Temperatures in the 30's.  North winds at 10 mph.
Monday night – Cloudy with patchy light drizzle or freezing drizzle.  Lows will be in the 28 to 32 degree range.  Northeast winds at 10 mph.

Tuesday – Mostly cloudy and cool.  Perhaps some light drizzle.  High temperatures will be in the 40's.  East winds at 5-10 mph.

Tuesday night – Cloudy with low temperatures around 38-40 degrees.  Southeast winds at 5 mph.

Wednesday – Cloudy and not as cool.  A chance for a shower.  High temperatures around 52 degrees.  South winds at 10 mph.
An explanation of what is happening in the atmosphere over the coming days.
A sharp cold front oozed into the area last night.  You probably felt the temperature drop and perhaps heard the wind pick up.  That cold front has become nearly stationary over our local counties.  This means that temperatures won't move much today.
Warm air is moving over top the shallow layer of cold air.  This is causing clouds to develop and light precipitation.  The biggest concern today will be where the 28, 29, 30, 31, 32 degree line should be placed.
Current temperatures
Right now it appears that the freezing line should park itself near Poplar Bluff towards or just south of Cape Girardeau, Missouri and then towards Vienna, Illinois and then take a sharp north/northeast path into parts of southeast Illinois.  The line may not move much today.  It is even possible that temperatures will rise 1-3 degrees degrees along or near that freezing line.  This would cause the freezing line to fluctuate a bit.
It appears that the Missouri Bootheel towards the Sikeston, Missouri area towards the Metropolis, IL and Paducah, KY area then towards Salem, Kentucky will be right near the freezing line.  Some questions remain on this topic.  Tough call.  Almost too close to call.
Road temperatures are warm.  This is because temperatures were in the 60's and lower 70's on Sunday.  It is going to take time for roads to cool down.  If temperatures were in the 20's then I would be more concerned about impacts.
As it stands, it appears that freezing rain and freezing drizzle would cause some problems on decks, porches, and elevated surfaces.  Bridges and overpasses would freeze first.  Roads would remain ice free for an extended period of time (outside of the bridges).  This will occur, of course, once temperatures actually fall below freezing.
The National Weather Service has issued a freezing rain advisory for portions of the area.  See that graphic below.  That sums up where the best chances for icing will be.  Again, this is a low to medium confidence forecast.  There remain, even at this late hour, some question as to exactly where the freezing line ends up being placed.  I gave it my best shot the last few days on placement.  All in all that forecast appears on track.
If you have travel plans today into Tuesday morning then monitor updates and road information.  There will likely be some travel issues.  Ice can be deceptive in nature.  A wet roadway or sidewalk/deck may actually be ice.  That first step could be the one that causes you to fall.  Injuries are common in events like this.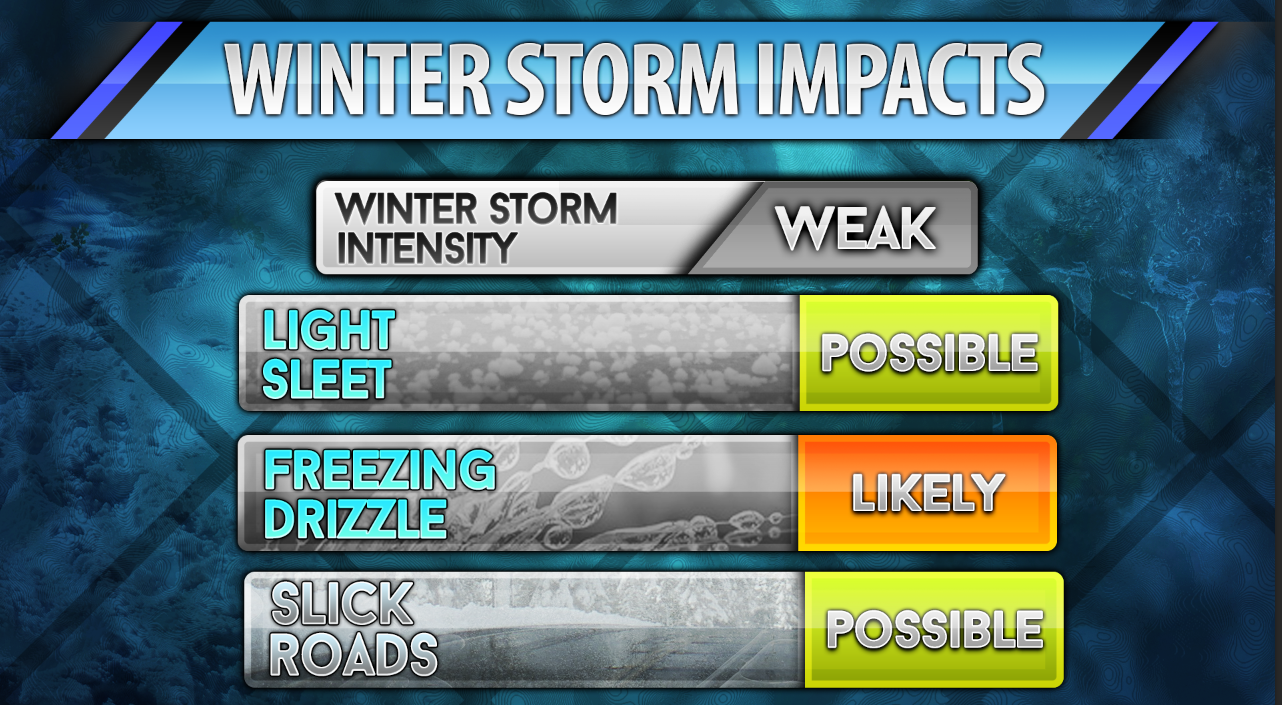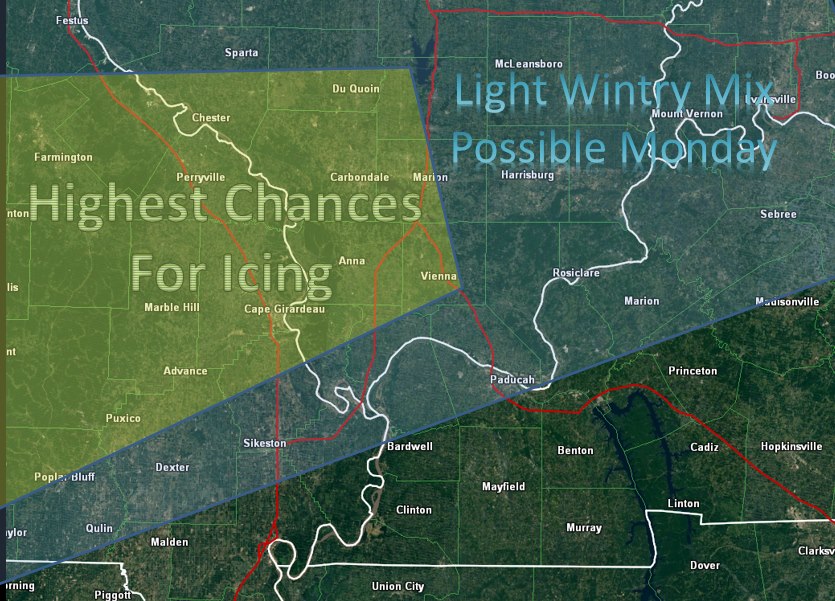 Tonight we might see the area of concern slip a little further south – again, some questions on that subject.
If so then this would be the area to monitor for freezing drizzle or freezing rain.Precipitation will be moving out tonight.  Even as temperatures drop the precipitation should be coming to an end.  Black ice could be a concern in spots.  that means moisture on the roadways will freeze as temperatures fall.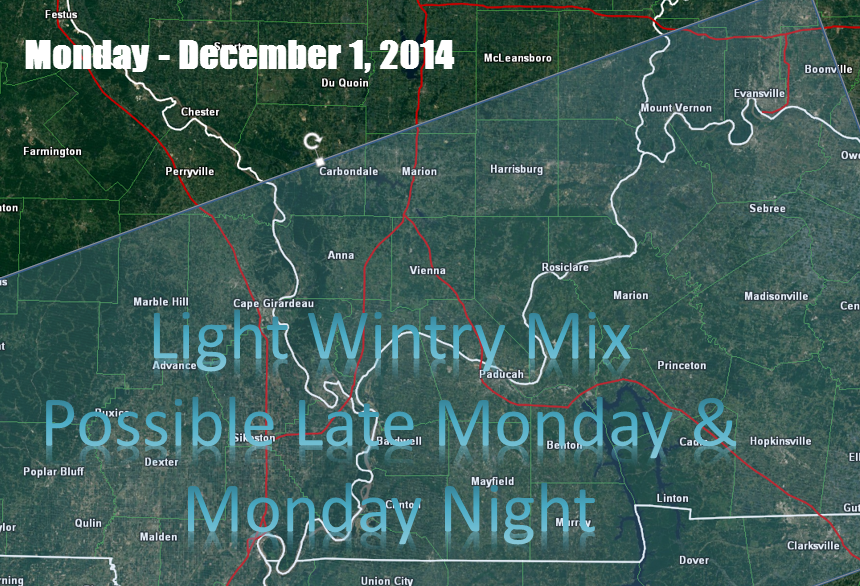 Temperatures will start to moderate a bit by Tuesday into Wednesday.  They will still be below normal.  Additional rain or light rain chances will be with us into the weekend.  An unsettled pattern as a whole.
Precipitation Tracking Tools:
Radars…
We have regional radars and local city radars – if a radar does not seem to be updating then try another one. Occasional browsers need their cache cleared. You may also try restarting your browser. That usually fixes the problem. Occasionally we do have a radar go down. That is why I have duplicates. Thus, if one fails then try another one.

If you have any problems then please send me an email beaudodson@usawx.com

WEATHER RADAR PAGE – Click here —

We also have a new national interactive radar – you can view that radar by clicking here.

Local interactive city radars include St Louis, Mt Vernon, Evansville, Poplar Bluff, Cape Girardeau, Marion, Paducah, Hopkinsville, Memphis, Nashville, Dyersburg, and all of eastern Kentucky – these are interactive radars. Local city radars – click here
NOTE:  Occasionally you will see ground clutter on the radar (these are false echoes).  Normally they show up close to the radar sites – including Paducah.

No significant changes in the ongoing forecast.  The NWS added a freezing rain advisory.  I have given you my best forecast thoughts over the last few days for this event.  Tough call on the exact placement of the 32 degree line.  Some room for error – a county or so either way.
Some light icing on elevated surfaces into this evening.  Some patchy slick spots on roads.  The main concerns will be where the freezing rain advisory has been issued.
The Wild Card gives you an idea of what might change that would cause the forecast to bust. A busted forecast means a forecast that does not verify. For example, if a winter storm (the area of low pressure) shifts its track 50 miles further south than expected, then that could cause a dramatic change in how much snow might or might not accumulate.

Wild card in this forecast –  where the freezing line ends up being placed through today.
Can we expect severe thunderstorms over the next 24 to 48 hours?  Remember that a severe thunderstorm is defined as a thunderstorm that produces 58 mph winds or higher, quarter size hail or larger, and/or a tornado.

Thunderstorm threat level is NONE

CURRENT WATCHES AND WARNINGS
Current WARNINGS (a warning means take action now). Click on your county to drill down to the latest warning information. Keep in mind that there can be a 2-3 minute delay in the updated warning information.
I strongly encourage you to use a NOAA Weather Radio or warning cell phone app for the most up to date warning information. Nothing is faster than a NOAA weather radio.
Will I need to take action?
An umbrella seems in order today.  Also watch for a few slick spots on decks, porches, sidewalks, and bridges/overpasses.
Please visit your local National Weather Service Office by clicking here. The National Weather Service Office, for our region, is located in Paducah, Kentucky.
We will have to deal with some light wintry mix today into this evening.  All of that has been discussed above.
The rest of the week may bring additional rain chances.  For now it appears that freezing rain and snow will likely stay out of the forecast for the rest of the week.  I will be watching the frontal boundary over the next 72 hours.  Quite a bit of cold air will at least be in the vicinity of our region.    Periodic rain chances will also be in the forecast through the weekend.
Because of the wintry precipitation today, I was not able to get to the extended part of the forecast.
Many of my graphics are from www.weatherbell.com – a great resource for weather data, model data, and more


This blog was inspired by ABC 33/40's Alabama Weather Blog – view their blog
Current tower cam view from the Weather Observatory- Click here for all cameras.
WSIL TV 3 has a number of tower cameras. Click here for their tower camera page & Illinois Road Conditions
WPSD TV 6 has a number of tower cameras. Click here for their tower camera page & Kentucky Road Conditions & Kentucky Highway and Interstate Cameras
Benton, Kentucky Tower Camera – Click here for full view
You can sign up for my AWARE email by clicking here I typically send out AWARE emails before severe weather, winter storms, or other active weather situations. I do not email watches or warnings. The emails are a basic "heads up" concerning incoming weather conditions