This forecast update covers far southern Illinois, far southeast Missouri, and far western Kentucky. See the coverage map on the right side of the blog.
Saturday –  Morning fog.  Quite a few clouds once again today (we can't shake the clouds).  High temperatures will be in the upper 40's and perhaps lower 50's.  Southwest winds at 5-10 mph.
 
Saturday night – Mostly cloudy.  A chance for fog and  some light rain or drizzle likely. It won't be quite as cold as recent nights.  Low temperatures will be in the 40's.  South winds at 5 mph.

Sunday –  Some morning fog.  Quite a few clouds once again.  Perhaps some breaks in the clouds during the afternoon hours.  If the sun manages to break out then we should see temperatures well into the 50's.  We shall see.   High temperatures will be in the 50's.  South winds at 5 mph.

Sunday night – Mostly cloudy sky conditions.  A chance for rain late at night.  Low temperatures will be in the 40's.  South winds at 10 mph.

Monday –  A period or two of rain showers likely.  High temperatures will be in the 50's.  South winds at 5-15 mph.  Winds becoming southeast with gusts to 20 mph in the afternoon.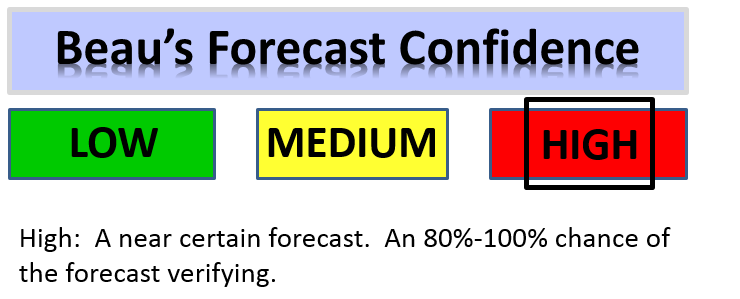 Current Temperatures Around The Local Area
An explanation of what is happening in the atmosphere over the coming days.
Good morning!  WELCOME to the weekend!  A weekend with more clouds and semi-cool temperatures (go figure – we just can not shake these clouds)
We do have a calm day ahead of us.  A calm Sunday, as well.  If you were thinking about heading out for some Christmas shopping then the weather will not be a hindrance.
Clouds clouds clouds – we can not shake the clouds.  Look at this mornings satellite view – all of that white on the map is cloudy sky conditions.  A HUGE area of clouds.  It has been this way for days on end.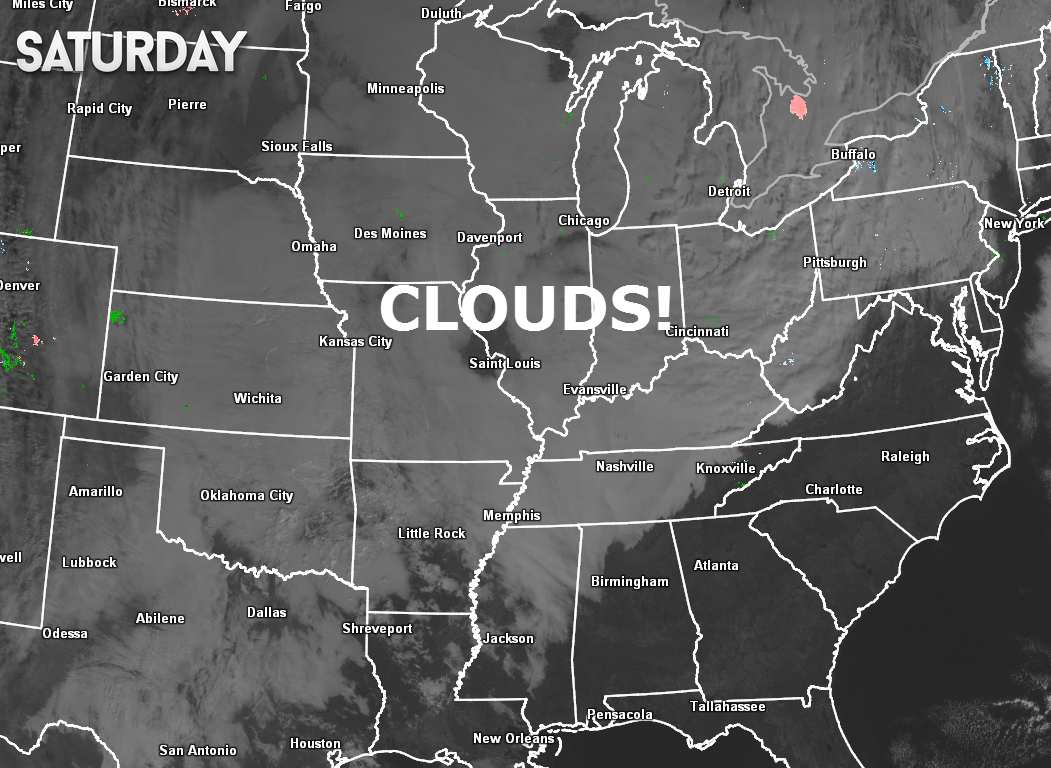 The main forecast issue today will be cloud cover and temperatures.  It appears we should make it into the upper 40's today and perhaps lower 50's.  Seasonable temperatures.  Nothing extreme.
Some fog will be possible again tonight into Sunday morning.  Drizzle will also be an issue.  The good news is that temperatures will be warm enough to prevent freezing drizzle.
Sunday SHOULD be the warmest (again, using the term loosely) day of the past seven days.  High temperatures should reach into the 50's.  This is ahead of our next storm system.
Rain arrives late Sunday night and more likely on Monday.  Rainfall totals should be on the light side.  Right now it appears rainfall totals will be around 0.25″ and perhaps a bit more in spots.
Here is the NAM model around 11 am Monday morning – see that line of pretty colors?  That is rain.  Snow way to the north over North and South Dakota.
Not concerned about severe weather with this next system.
Tuesday and Wednesday should be dry and cool.
Our next system should arrive around Friday or Saturday.  Still a bit early to determine the track of the area of low pressure.  That also means it is too early to determine whether it will produce precipitation.
Let me show you something.  In the long range the weather computer models are usually all over the place with the different upper air features.  This has a HUGE implication for our sensible weather (what actually happens down at ground level).
Some long range forecasters will show you snowfall forecast maps days and days in advance.  I have learned over the years that this does nothing but get your hopes up that it is about to snow.  Even if the forecasters tells you that "this isn't a forecast, I am just showing you the weather model charts"  –  you will see dozens of Facebook pages (and other sources for weather information) posting chart after chart of long range snowfall forecasts.  BUYER BEWARE!  🙂  Very rarely do snowfall charts past day one or two verify.
Please don't get caught up in sharing these snowfall maps.  🙂 Last year this subject became a big headache for a lot of meteorologists.  We were constantly putting out fires (squashing rumors of huge snowstorms).  Every other day there was some new "rumor" snowfall chart being passed around.  Take them with a grain of salt!  They rarely verify.  If I showed you every day 4, 5, 6, or 7 snowstorm then you would be delirious with "worry" about an upcoming winter weather event that might not ever happen.  The same goes in the spring.  The computer models are constantly showing big severe weather outbreaks.  But, in the end, they rarely verify.
Computer weather models do a poor job of forecasting in the long range (past day 4, 5, 6, 7, 8, 9, and 10.  A lot of computer models showed this past week being warm!  They were completely wrong.  Those who pulled their forecast straight off the models busted big time.  It is meteorology – not modelology!  Forecasters who simply look at the computer models and tell you what is going to happen are typically poor forecasters.  They will occasionally get it right.  More often than not they fail to produce accurate forecasts.
The computer models have been showing a significant storm system this coming Thursday though Saturday.  The models typically run twice a day to four times a day.  Each time the models spit out a different track and different outcome for our region.
For example – the upcoming potential storm system for next Thursday through Saturday:  Sometimes the computer models have showed 3″-6″ of snow falling over our local counties.  Sometimes the models have been showing a severe weather threat for our region.  And sometimes the computer models have been showing a dry end of the week!  Now, how much different could the models be!  They are ALL over the place.
This is why I give you generalities in the long range.  You will never see me telling you that a snowstorm is coming on day 6, 7, 8, 9 or 10.  It is not possible to know exactly what is going to happen that far out.  Yes, you can find weather blogs and Facebook pages that will promise you snow day in and day out (or at least get your hopes up).  But, again – buyer beware.  They rarely hit the mark.
Let me show you what I mean.  Below are graphics from the GFS computer model and the Canadian computer model.  Let me show you the differences from run to run (run to run means the same model but the latest updated map – remember I told you the computer models cycle new data several times a day and spit out new maps several times a day).
This is the GFS model for next Friday night around 11 pm.
THIS IS MY PRETEND VOICE telling you what the MODEL is showing.  And showing you how irresponsible it is to worry you about a storm that has yet to even form.
This was ONE of the GFS model runs early yesterday.  HOLY COW – a MONSTER system is taking shape over our region.  A deep area of low pressure is sweeping into Missouri with a blizzard on the back edge and severe thunderstorms with possible tornadoes over the Tennessee Valley into our area.
Hide the kids, grab grandma, put the horses in the barn – this is going to be the BIG one.
That big L is the area of low pressure. You can't even distinguish the state lines because of the widespread precipitation (the blue and purple/pink colors).  The low is over southern Missouri on that particular model run.  That should give you some idea of geography.  That is a BEAST of a storm.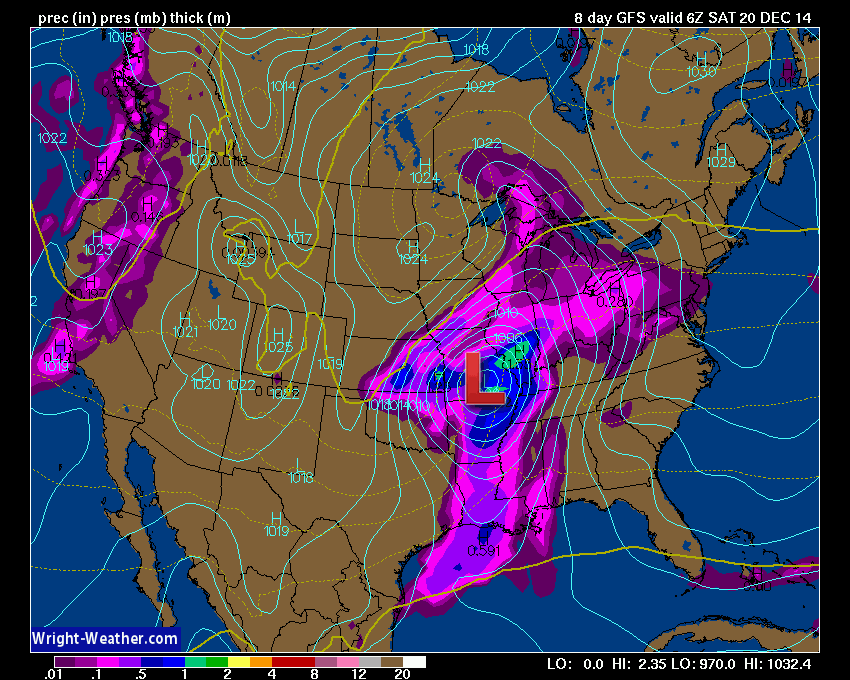 Okay, now this is the SAME computer model later in the day.  It is ingesting new data and coming up with a new solution.  This is what it spits out.
Oh, okay – well that beast of a storm is now gone.  Woosh that was a close call, wasn't it?
NOW the model is showing the low tracking through the Tennessee Valley.  Oh wow look at that.  SNOW FOR OUR REGION!  WOOHOO!
Wait, Beau – a few hours ago you said a severe thunderstorm and tornado outbreak was about to occur?  What the heck happened.
And there you have it 🙂 – this is why you shouldn't worry people about one run of one computer model.  You would be pulling your hair out by the end of the day.  A roller-coaster, right?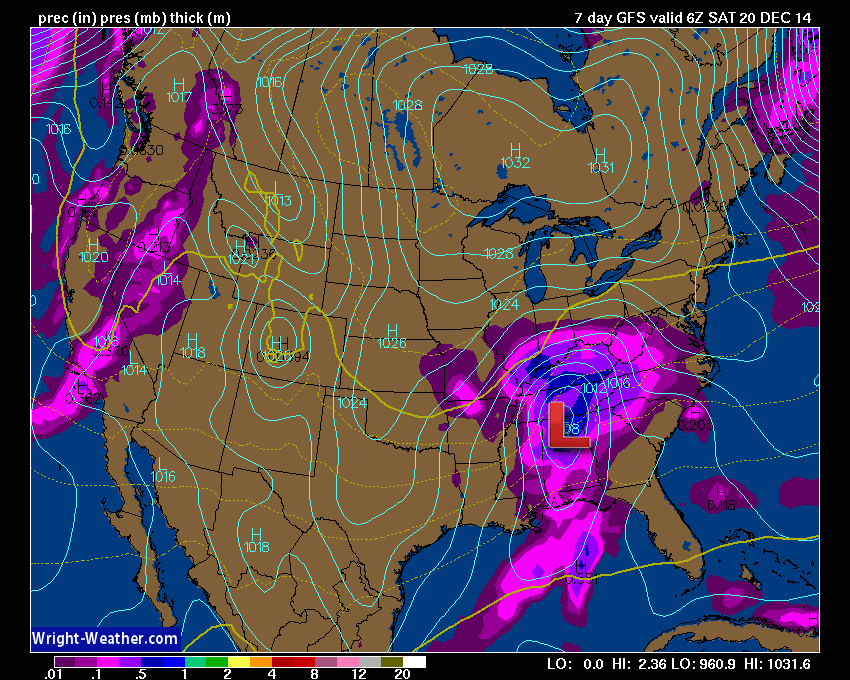 And now today's GFS model run – the low is EVEN FURTHER south!  So, again – take these models with a grain of salt.  Watch for trends.  Trends are the important part of model watching.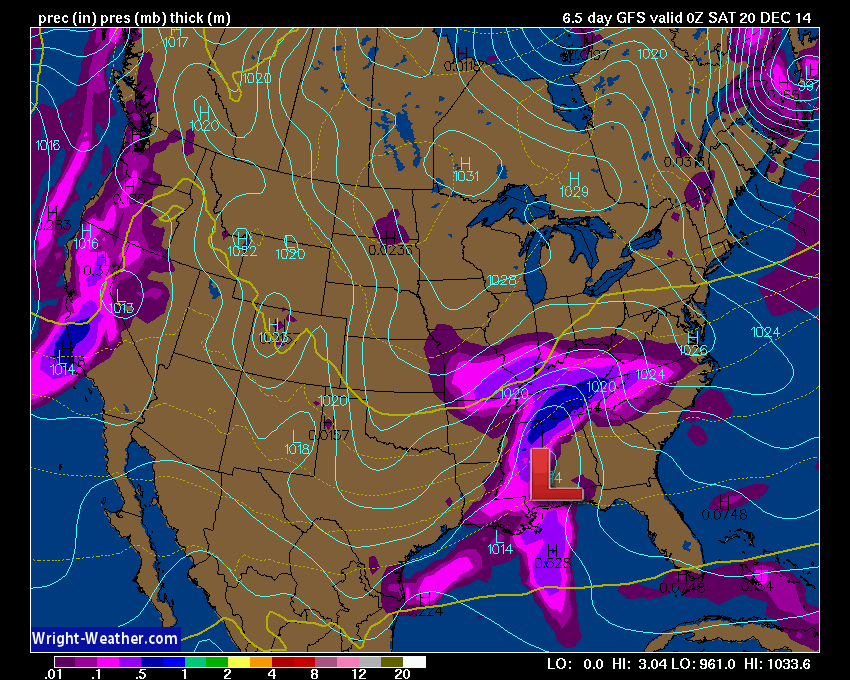 Let me show you another computer model for that same storm.  This is the Canadian computer model.  There are all sorts of models that meteorologists use to forecast the weather.  The Canadian is a decent model.  I like it from time to time – depending on what is going on in the atmosphere.
The Canadian model shows a poorly developed storm system way way south of our region.  A much weaker system.  The deep low is no longer present.  A totally different solution than the GFS model.
Why the differences between the GFS model above and the Canadian model below?  Well, it has to do with phasing for one thing.  Phasing is basically (not a scientific explanation) when two low pressure areas (typically one from the northern U.S. and one from the southern U.S. – southern branch of the jet stream) meet up and develop a much larger storm system.
In order to phase, the upper atmosphere has to come together JUST right.  If one storm outpaces the other storm then phasing won't occur.  No phase = less of a storm system.  If they phase = watch out for a larger storm system that will need to be monitored and tracked.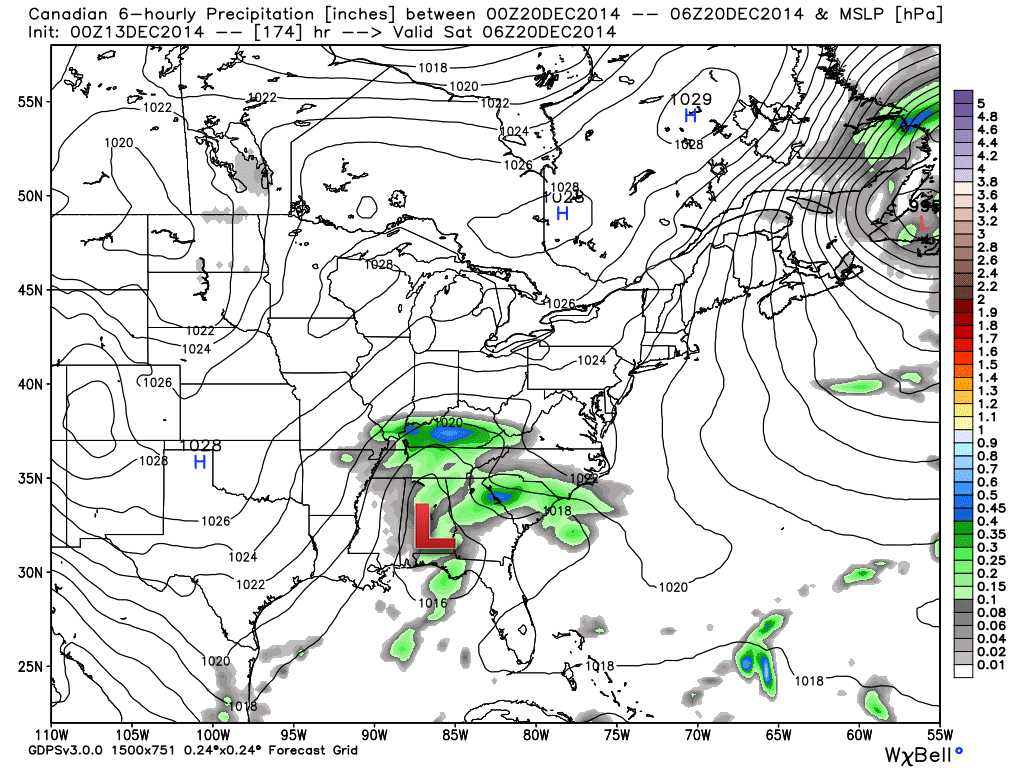 Here is a messy graphic showing you what a PHASE looks like at the upper levels.  Those colors represent the storm systems (vorticity) – you can see one over the northern United States and one over the southern United States – see how close they are?  They will eventually join forces and phase.  Phasing causes a much larger storm system to develop.
I found these examples on Google images.
Here they come!  Will they marry?  Won't they marry?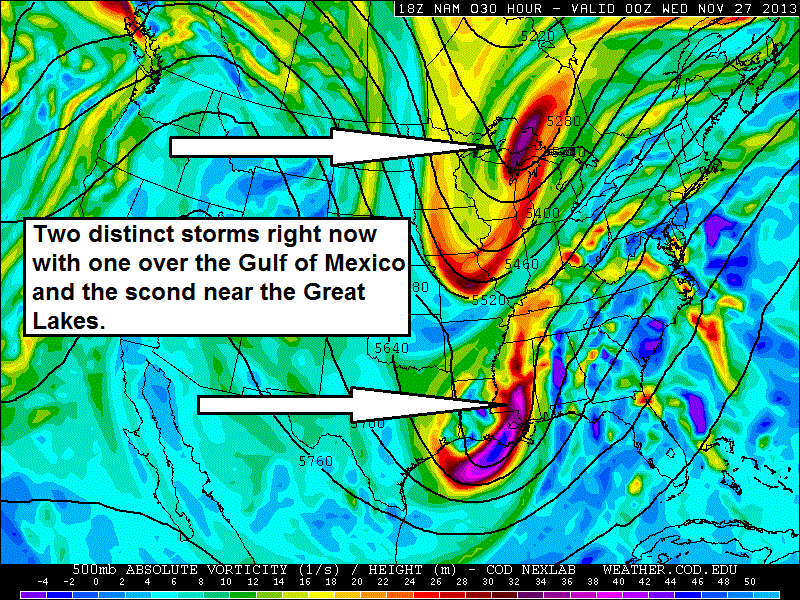 AND HERE WE GO!  A phase 🙂  (just an example from 2013)
THEY SAID, I DO!  Married!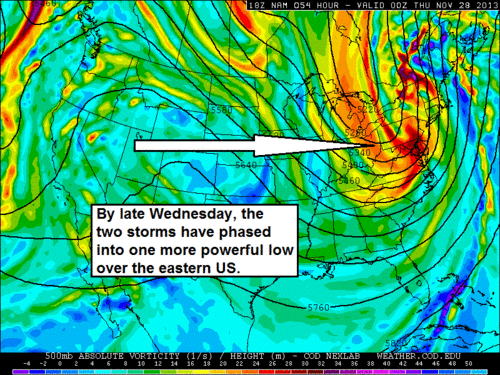 Some storms phase and some storms don't phase.  Whether they phase or not makes a WORLD of difference in what actually happens in our world of weather.
Buyer beware of forecasts for winter storms days and days in advance.  They rarely verify (at least the details).
And THIS my friends is why the tortoise (the more cautious forecaster) usually wins the race.  It is okay to tell you that I am watching a system in the long range.  It is not okay (in my opinion) to give you specifics or make you promises about snow!  There are some forecasters that won't even touch the longer range part of the forecast.  They probably have the right idea (and sleep better at night)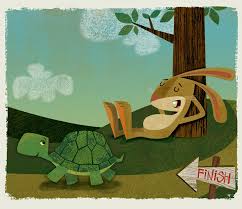 Here is a real world example of why it is irresponsible to post snowfall forecast maps days in advance!  This actually happened last year.  Note, in the article, the dangers of posting inaccurate weather data/maps/snowfall projections (local emergency management officials had to deal with the aftermath of the rumors – the National Weather Service had to answer hundreds of phone calls).
Click the image for a larger view (this was posted on the Delmarva Firefight Forums).  They were simply posting it because they saw it on some amateur Facebook weather page.  Unfortunately, the fire department did not know they were posting inaccurate information.  Oops.
These weather maps spread like wild-fire.  One person shared it to the next – then another and then another.  Before long it was making national news!!!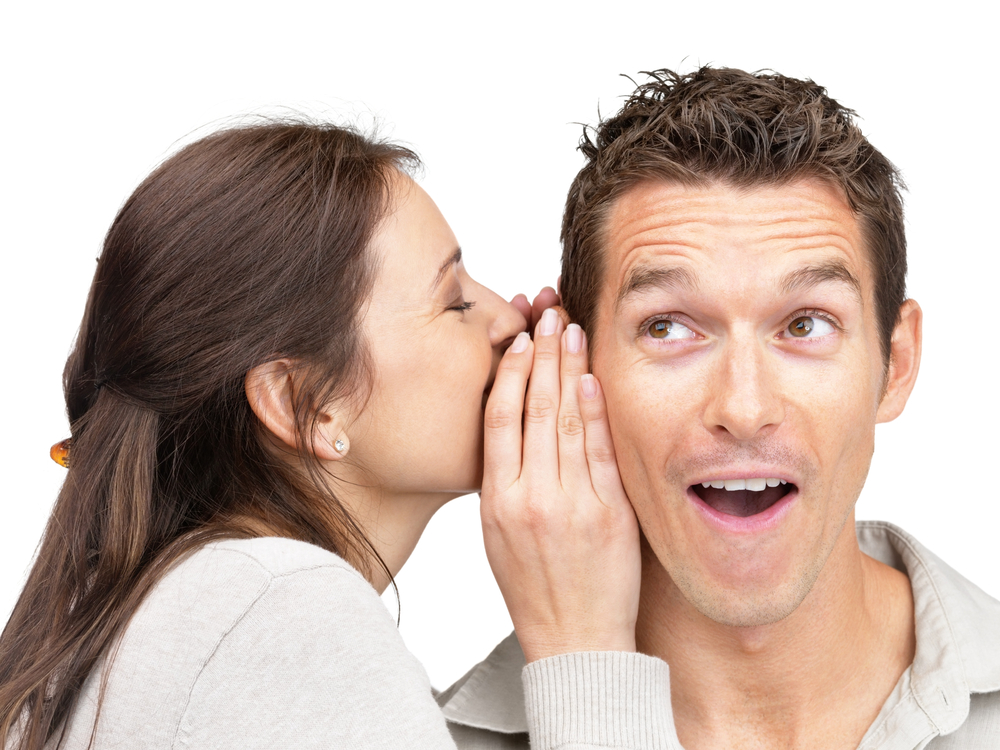 HEY, DID YOU HEAR ABOUT THE SNOWSTORM NEXT WEEK!!!!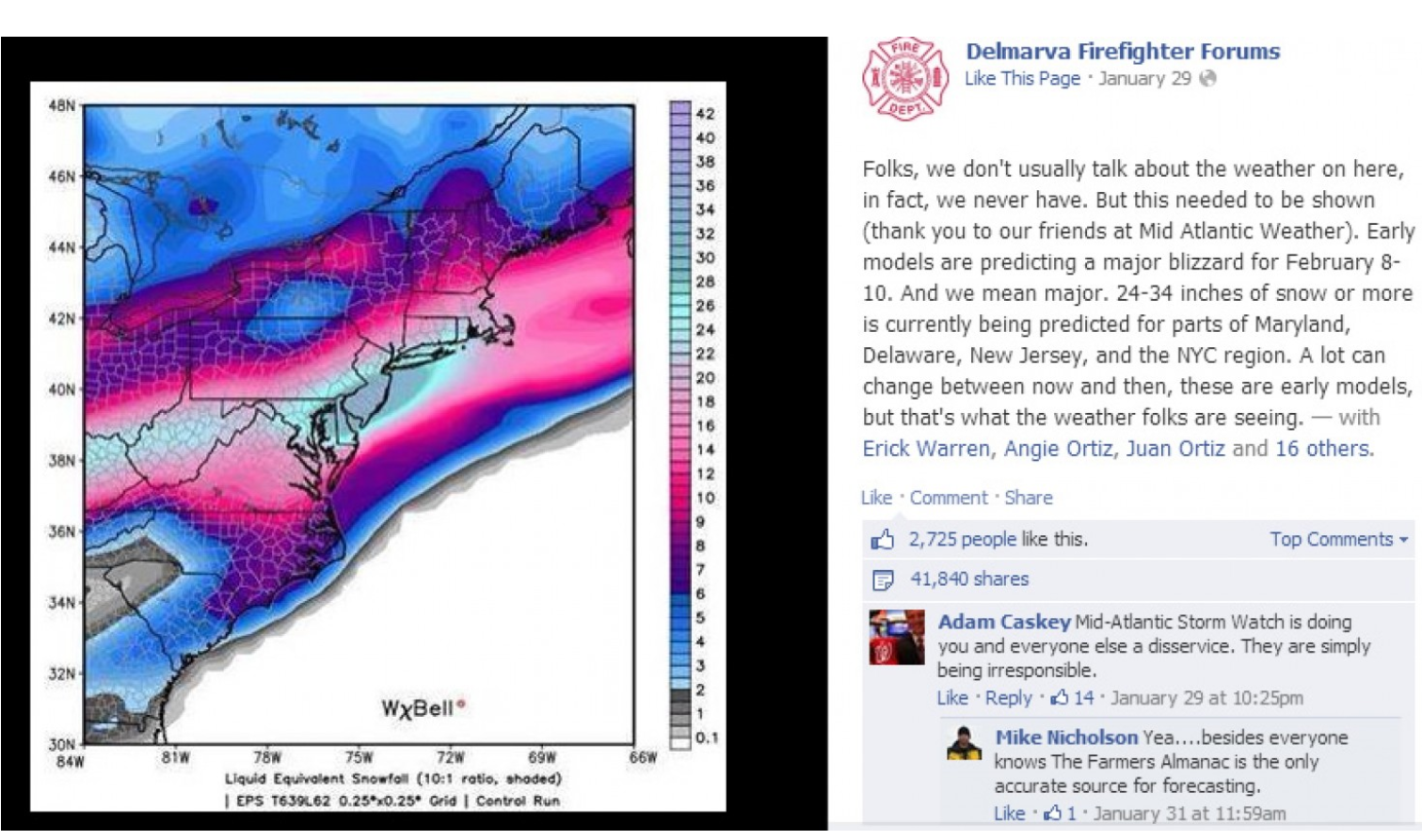 Here are some comments from the Restonnow web-site concerning the forecast.  The article was written by Karen Goff.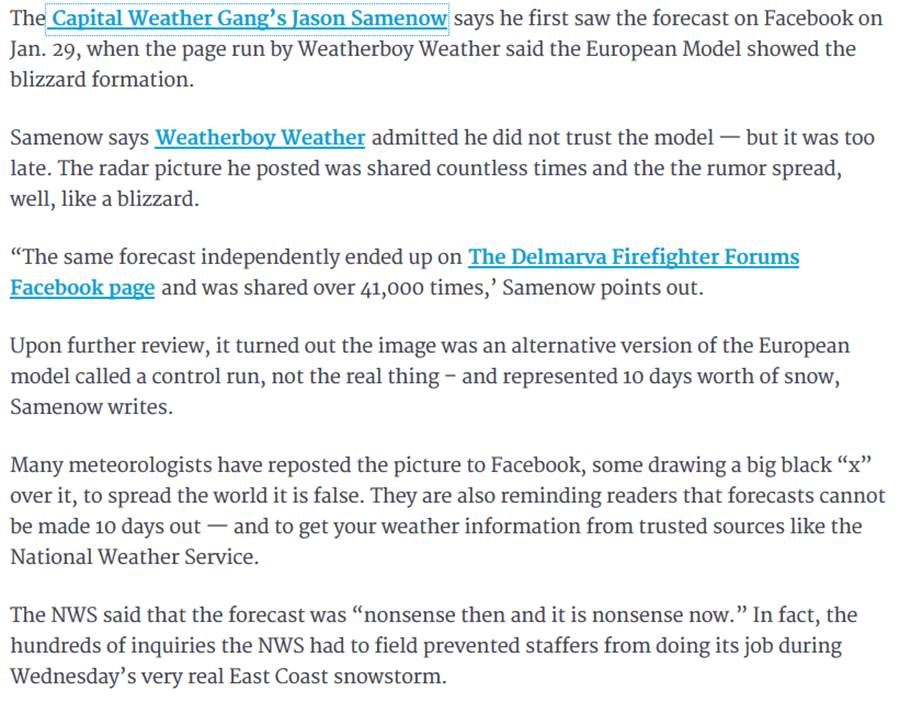 So, this winter when you see someone posting and sharing HUGE snowfall projection maps (days in advance) please don't share those maps!  You will save the National Weather Service and other local forecasters a headache.  🙂
Oops I am late for a meeting and running out of time to edit this post.  Have a great weekend!
———————  End rant
Many of my graphics are from www.weatherbell.com – a great resource for weather data, model data, and more


This blog was inspired by ABC 33/40's Alabama Weather Blog – view their blog
Current tower cam view from the Weather Observatory- Click here for all cameras.
WSIL TV 3 has a number of tower cameras. Click here for their tower camera page & Illinois Road Conditions
WPSD TV 6 has a number of tower cameras. Click here for their tower camera page & Kentucky Road Conditions & Kentucky Highway and Interstate Cameras
Benton, Kentucky Tower Camera – Click here for full view
You can sign up for my AWARE email by clicking here I typically send out AWARE emails before severe weather, winter storms, or other active weather situations. I do not email watches or warnings. The emails are a basic "heads up" concerning incoming weather conditions.