We have our first sponsor for the blog.  Milner and Orr Funeral Home and Cremation Services located in Paducah, Kentucky and three other western Kentucky towns – at Milner and Orr they believe in families helping families.


This forecast update covers far southern Illinois, far southeast Missouri, and far western Kentucky. See the coverage map on the right side of the blog.
Remember that weather evolves.  Check back frequently for updates, especially during active weather.
Monday – Some clouds and bitterly cold.  Snow flurry possible.  High temperatures in the teens over most counties – a few spots may reach lower 20's.  North and northeast winds at 10 mph.  Wind chills during the morning of 5 above to 15 below.  My confidence in this part of the forecast verifying is high

Morning School Bus Stop Weather –  Partly cloudy.  Small chance for a flurry.  Bitterly cold.  Morning temperatures in the single digits over many counties.  Lower teens over parts of west Kentucky.  Wind chills values of 5 above to 15 below.  Cold!  Winds from the north at 10-15 mph. Chances of schools being delayed because of the weather HIGH
—————————————————————————————-
Afternoon School Bus Stop Weather – Partly cloudy.  Small chance for a flurry. Cold.  Temperatures in the teens with northeast winds at 5-10 mph.  Wind chills in the single digits.

Monday night – Some clouds and cold.  A small chance for a flurry.  Lows from 5 above north to near 14 around the KY/TN border.  Northeast winds at 10 mph.  My confidence in this part of the forecast verifying is

Tuesday – Some clouds with a snow flurry or snow shower possible.  Cold.  Highs in the 20's to lower 30's.   South/southwest winds at 10-20 mph.  My confidence in this part of the forecast verifying is medium

Tuesday night –  A few clouds with maybe a snow shower or flurry. Lows mostly in the teens to around 20 degrees.  Northwest winds at 10 mph.    My confidence in this part of the forecast verifying is high

Wednesday –  Some sun and not as cold.  Highs in the 30's.  West winds at 5-10 mph.  My confidence in this part of the forecast verifying is high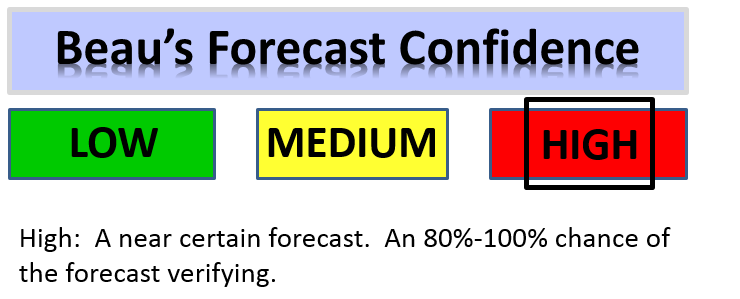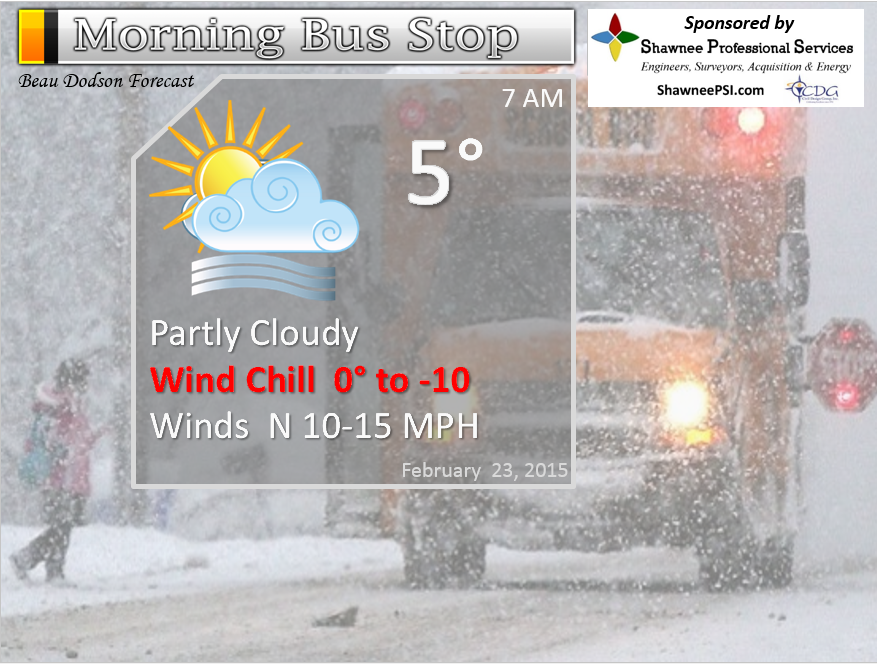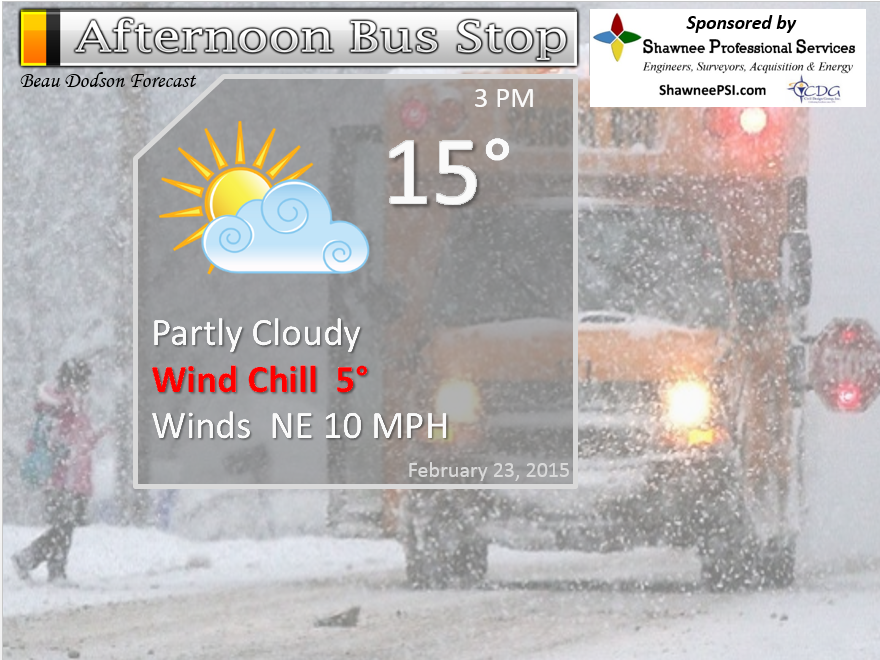 The School Bus Stop Forecast is brought to your by Shawnee Professional Services.  For more information click here

Shawnee Professional Services & Civil Design Group have been providing Land Surveying, Engineering, Grant Administration and Acquisition services for the past 20 years.

Currently Licensed in Illinois, Kentucky, Missouri, Indiana, and Tennessee; please contact Shawnee for any Land Surveying or Engineering needs.

Shawnee's company size allows them to devote individual attention to each client and to approach each project with the required thoroughness to successfully complete the project, large or small.

Shawnee combines innovative thinking and proven techniques, completing projects cost-effectively for their clients. Visit Shawnee's website at shawneepsi.com for more information.  Shawnee has offices in Paducah, KY, Vienna, IL and Benton, IL.
Current Temperatures Around The Local Area

An explanation of what is happening in the atmosphere over the coming days…
Our crazy cold weather continues.  Monday morning temperatures in the single digits for some counties.  Record or near record lows.  An amazing series of cold shots have impacted our weather over the past couple of weeks.  Impressive to say the least.  Tiresome, as well.  Many of you are more than ready for warmer weather.  I don't have warmer weather in the cards.   I do have some "not as cold days" – in the forecast.
We should see some melting on Tuesday and Wednesday of this week.  If we can get the sun to come out then melting will occur.  Temperatures will be in the 30's both days.
Another cold front arrives on Wednesday.  That means that Thursday and Friday will be cold once again.  Lows in the single digits and teens.  Highs may not get out of the 20's either day.  Best chance for some melting will be Tuesday and Wednesday.  Let's hope.
Overnight lows this week will remain cold to very cold.  Well below normal.  This will cause some refreezing each night.  Be careful on the ice!
See the long range discussion below for details on the weekend.

Trover's Equipment and Lawn Care Facebook Page – Family owned and operated!  They are a dealer for Snapper, Simplicity, Snapper Pro, Bad Boy Mowers, and Intimidator Utility Vehicles. They are a Stihl and Dolmar power products dealer. They also are a dealer for Briggs & Stratton, Kohler gas & diesel engines, and Kawasaki engines. They service and repair just about any brand.

Will I need to take action?

Bitterly cold air for the kids at the bus-stop.  Not the best weather for anyone outdoors.
Slick roadways.  Of course, I don't have to tell you this.  Use care with all of the ice remaining on roads.  It is going to take some time to clean up this mess.  Tuesday we might see temperatures recover a bit.  Then more cold air Tuesday night and Wednesday.  Seems like if a little bit of this mess melts that it just ends up refreezing during the night.
Check out our newest sponsors $5 meal!  The DQ Grill and Chill (located across from Noble Park in Paducah, Kentucky) is the newest WeatherTalk Blog sponsor!  A local business helping to sponsor the weather information that you have come to love so much.
They have a Facebook Page and I encourage you to check it out.  DQ Grill and Chill on Facebook


How much precipitation should we expect over the next few days?

No precipitation forecast.
We have a new sponsor!  G&C Multi-Services out of Paducah, Kentucky.  G & C Multi-Services is a service provider in Western Kentucky that provides industrial and commercial equipment fabrication, machine troubleshooting,  repair and maintenance, and installation.  They can custom fabricate steel, stainless, and aluminum products per customer specifications.
Visit their web-site here.  Or click the ad below!  They have a Facebook page and it can be viewed here.


Well, if by winter weather you mean bitterly cold weather, then yes!  I have plenty of that for you.  Otherwise, the weather pattern appears fairly dry.
An occasional snow flurry or snow shower will be possible this week with weak disturbances and cold fronts moving through the area.  But, a big snowstorm is not showing up in the cards – at least through Friday.
One disturbance I am watching arrives around Thursday.
The cold will continue.  I am sure you are counting the days down until March.
Meteorologist Jim Rasor (WSIL)  has a new blog.  Check it out when you have time  http://mylocalweather.net/forum/home

This section of the blog is speculative forecast information.  Because it is past the range of what meteorologists can forecast accurately, it should be considered speculation.  Anything past day 5 is considered a long range forecast.
The long range continues to be made up of cold temperatures for most of the upcoming work week. There is quite a bit of debate about how March will turn out.  I am leaning colder than normal as far as temperatures.  Not sure on precipitation, yet.  Above or below?  I have not banked on a forecast one way or another (for precipitation).  Would not surprise me if we saw snow in March this year.   I base that on the pattern.
A weak system may bring some light snow showers around Thursday afternoon or night.  Looks moisture starved to me.  I will watch it.
This is the Canadian model – it shows some light flurries and snow showers in and near our region Thursday.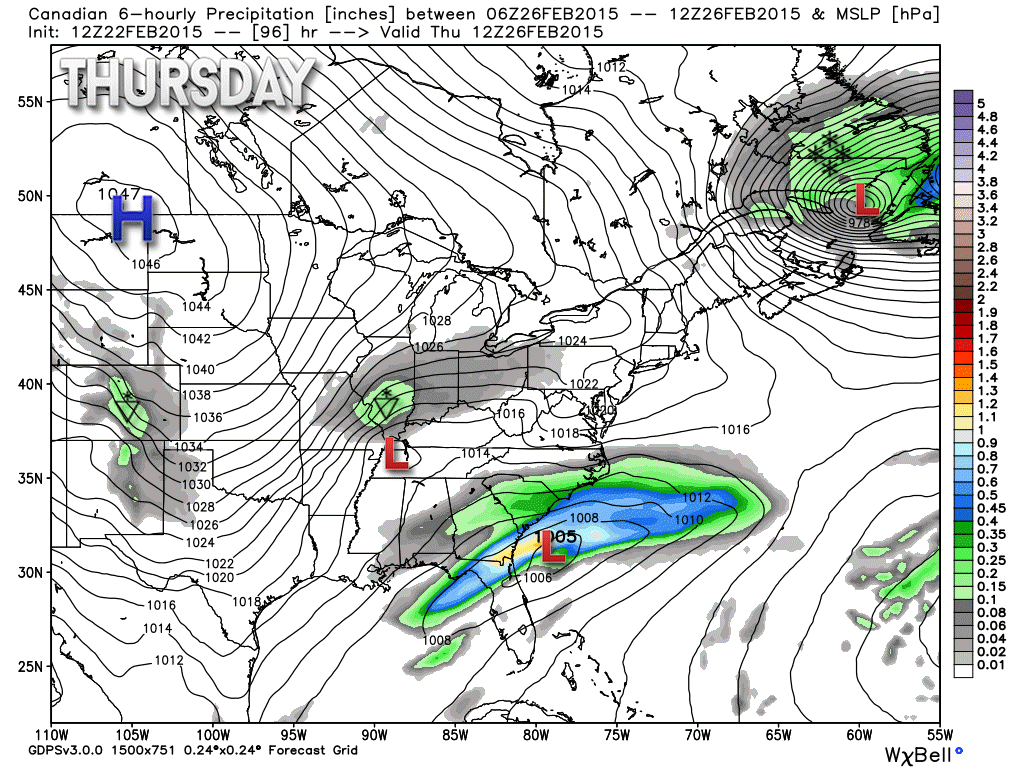 I continue to watch a weather system for the weekend into early next week.  Models track this storm into our region with precipitation trying to break out over the weekend.
Some of the models over the past 24 hours have warmed up a bit and are showing mostly a rain event.  But, other data indicates snow to rain.  Some data keeps us mostly dry.  Okay, then – now that we have covered every possible outcome 😉
Still a bit too soon to bank on any general idea for that system.
Let's look at the jet-stream on the GFS model for Friday into Saturday night (maps below).  Wow, check out that strong southwest flow.  Normally that means a lot of moisture flowing into our region.  Right now our jet stream is diving in from the northwest.  COLD air – bitterly cold air.
By later this week, however, the data starts showing southwest flow.  What does southwest flow mean?  It means the winds at the upper levels will be coming out of the southwest United States.  That could mean an increase in clouds and moisture.  We don't want the warm air aloft running over all of this cold air.  That is what happened last week.  What we need is to see all levels of the atmosphere warm.  That way we just have to deal with rain.  I will continue to monitor and update as we move forward.
Here is the 850mb wind map – this is several thousand feet aloft.  See how the lines are moving in from the southwest?  That means that warm air aloft is moving into our region from the southwest.  The winds are carrying air from Mexico, Texas, Oklahoma, and Arkansas into our region.  Image is from wright-weather.com  Click image for larger view
The colors on this particular chart represent temperature.  The warmer colors over our region mean warm air aloft.  The blue colors to the north are cold temperatures.  The purple is very cold air – the red and yellow behind the purple is extremely cold air.  Scale is at the bottom of the chart.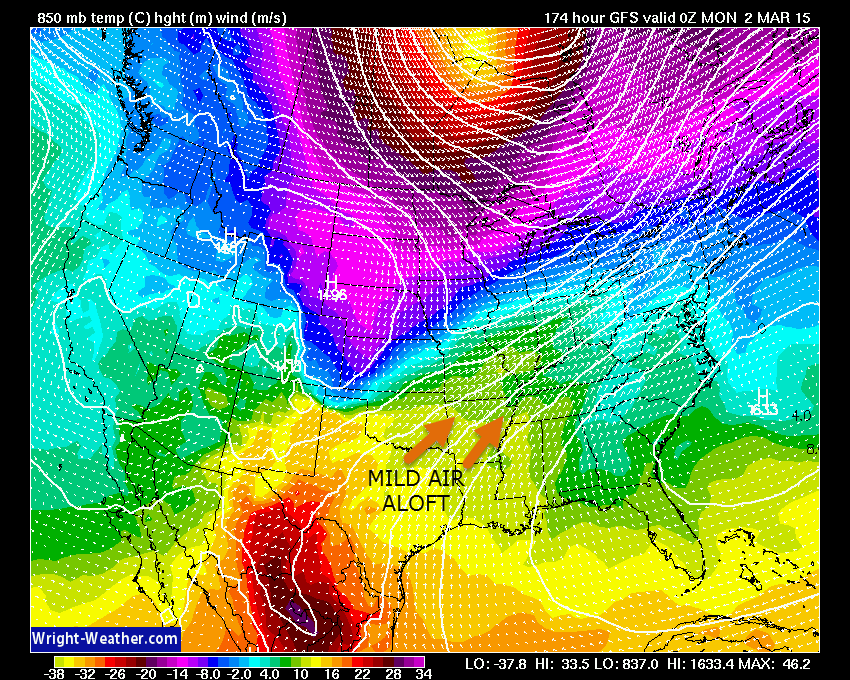 Here is the 500 mb wind map.  This is about 18,000′ aloft.  Way up there.  Jet stream – fast moving flow on this map.  Again, it is coming out of the southwest.  Meteorologists generally watch for this type of map when they start thinking about precipitation in our region.  This is where our moist storms come from.
The colors represent wind speed.  The winds are very strong over our region.  You can't even see the state outlines.  I labeled them for you.  Nice flow of air from the Pacific Ocean, Mexico, and southern plains.   Image is from wright-weather.com and you can click it for a larger view.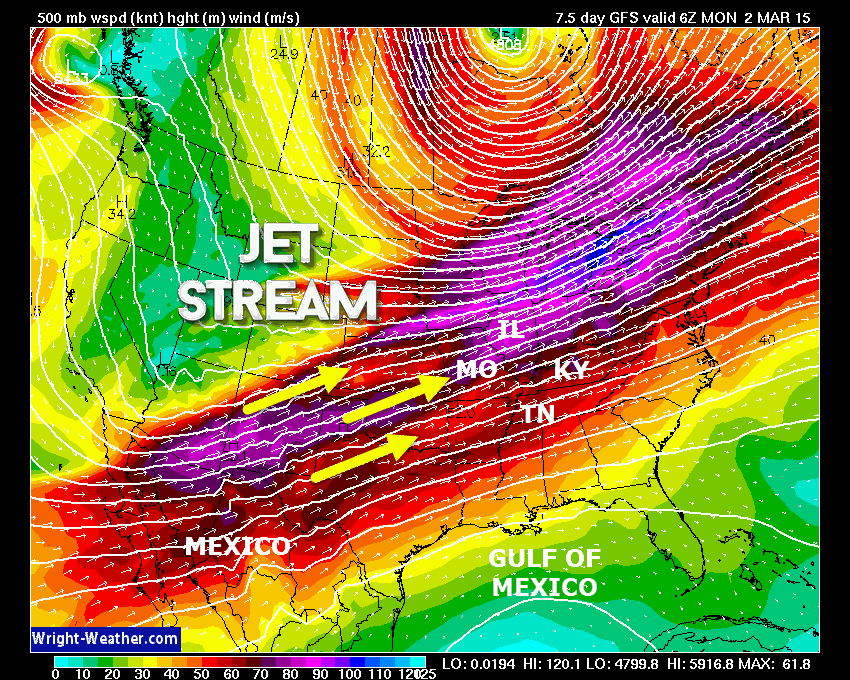 Even the 200 mb map shows a southwest flow! That is 39,000′ up in the atmosphere.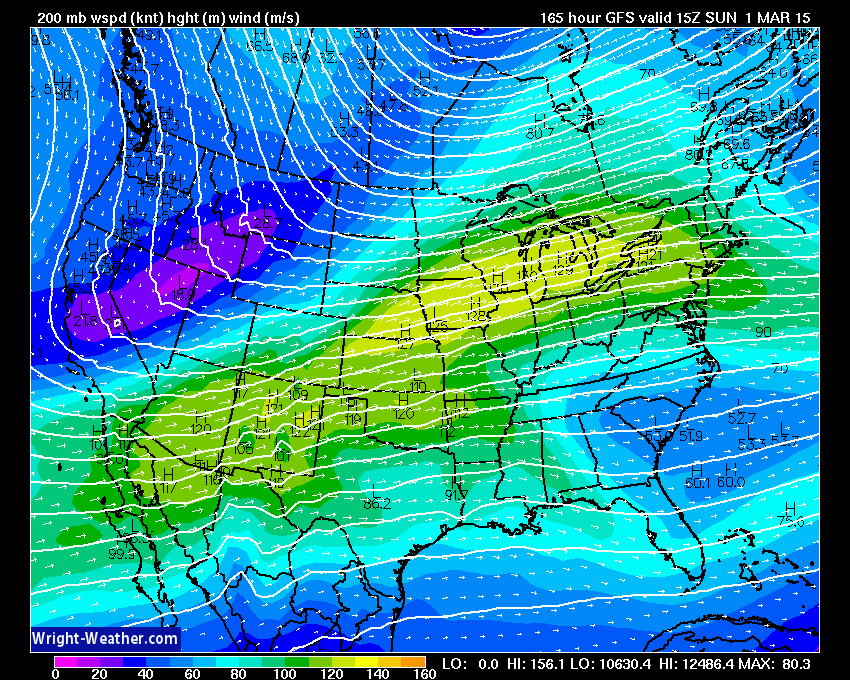 There are some weather maps floating around showing us receiving a ton of snow this coming weekend.  Right now there currently isn't any data showing that.
Could this system blow up on us?  Of course it could.  Does the data show that right now?  No.  The models do show quite a bit of moisture possibly moving into our region.  But, temperatures are questionable.  Track of storm is questionable.  Timing is questionable.
As always, we take a wait and see approach to the long range.

We have regional radars and local city radars – if a radar does not seem to be updating then try another one. Occasional browsers need their cache cleared. You may also try restarting your browser. That usually fixes the problem. Occasionally we do have a radar go down. That is why I have duplicates. Thus, if one fails then try another one.

If you have any problems then please send me an email beaudodson@usawx.com

WEATHER RADAR PAGE – Click here —

We also have a new national interactive radar – you can view that radar by clicking here.

Local interactive city radars include St Louis, Mt Vernon, Evansville, Poplar Bluff, Cape Girardeau, Marion, Paducah, Hopkinsville, Memphis, Nashville, Dyersburg, and all of eastern Kentucky – these are interactive radars. Local city radars – click here
NOTE:  Occasionally you will see ground clutter on the radar (these are false echoes).  Normally they show up close to the radar sites – including Paducah.


Current WARNINGS (a warning means take action now). Click on your county to drill down to the latest warning information. Keep in mind that there can be a 2-3 minute delay in the updated warning information.
I strongly encourage you to use a NOAA Weather Radio or warning cell phone app for the most up to date warning information. Nothing is faster than a NOAA weather radio.
Color shaded counties are under some type of watch, warning, advisory, or special weather statement.  Click your county to view the latest information.

Please visit your local National Weather Service Office by clicking here. The National Weather Service Office, for our region, is located in Paducah, Kentucky.  They have a lot of maps and information on their site.  Local people…local forecasters who care about our region.

Here is the official 6-10 day and 8-14 day temperature and precipitation outlook.  Check the date stamp at the top of each image (so you understand the time frame).
The forecast maps below are issued by the Weather Prediction Center (NOAA).

The latest 8-14 day temperature and precipitation outlook.  Note the dates are at the top of the image.  These maps DO NOT tell you how high or low temperatures or precipitation will be.  They simply give you the probability as to whether temperatures or precipitation will be above or below normal.

Who do you trust for your weather information and who holds them accountable?
I have studied weather in our region since the late 1970's.  I have 37 years of experience in observing our regions weather patterns.  My degree is in Broadcast Meteorology from Mississippi State University and an Associate of Science (AS).  I am currently working on my Bachelor's Degree in Geoscience.  Just need to finish two Spanish classes!
I am a member of the American Meteorological Society.  I am a NOAA Weather-Ready Nation Ambassador.  And, I am the Meteorologist for McCracken County Emergency Management.
I own and operate the Southern Illinois Weather Observatory.
There is a lot of noise on the internet.  A lot of weather maps are posted without explanation.  Over time you should learn who to trust for your weather information.
My forecast philosophy is simple and straight forward.
Communicate in simple terms
To be as accurate as possible within a reasonable time frame before an event
Interact with you on Twitter, Facebook, and the blog
Minimize the "hype" that you might see on television or through other weather sources
Push you towards utilizing wall-to-wall LOCAL TV coverage during severe weather events
I am a recipient of the Mark Trail Award, WPSD Six Who Make A Difference Award, Kentucky Colonel, and the Caesar J. Fiamma" Award from the American Red Cross.  In 2009 I was presented with the Kentucky Office of Highway Safety Award.  I was recognized by the Kentucky House of Representatives for my service to the State of Kentucky leading up to several winter storms and severe weather outbreaks.
If you click on the image below you can read the Kentucky House of Representatives Resolution.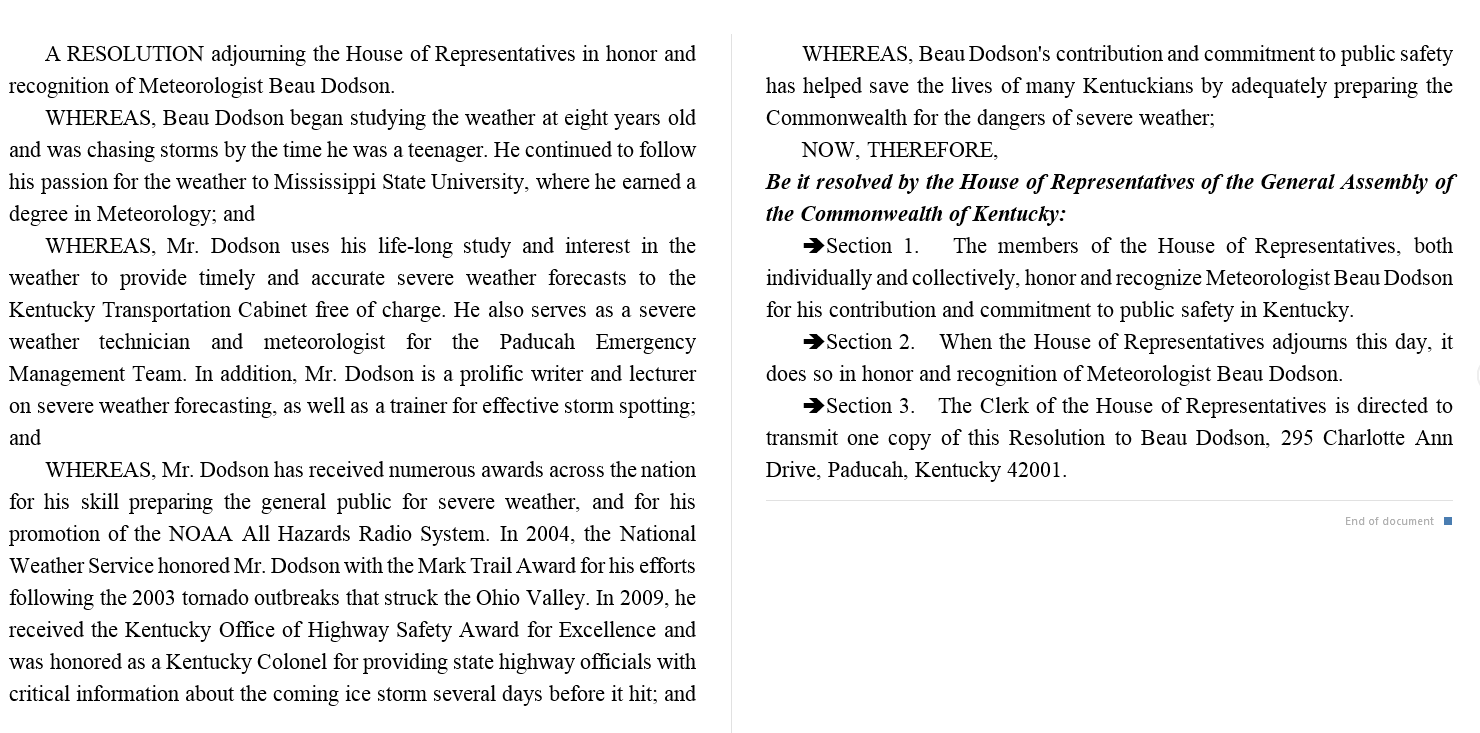 I am also President of the Shadow Angel Foundation which serves portions of western Kentucky and southern Illinois.
Many of my graphics are from www.weatherbell.com – a great resource for weather data, model data, and more


This blog was inspired by ABC 33/40's Alabama Weather Blog – view their blog
Current tower cam view from the Weather Observatory- Click here for all cameras.
WSIL TV 3 has a number of tower cameras. Click here for their tower camera page & Illinois Road Conditions
WPSD TV 6 has a number of tower cameras. Click here for their tower camera page & Kentucky Road Conditions & Kentucky Highway and Interstate Cameras
Benton, Kentucky Tower Camera – Click here for full view

You can sign up for my AWARE email by clicking here I typically send out AWARE emails before severe weather, winter storms, or other active weather situations. I do not email watches or warnings. The emails are a basic "heads up" concerning incoming weather conditions.