This forecast update covers far southern Illinois, far southeast Missouri, and far western Kentucky. See the coverage map on the right side of the blog.
If you find value in this page and the other weather products on the Weather Observatory web-site then consider making a donation to keep everything up and running.  It does cost quite a bit of money each month to run the radars, data feeds, hosting of sites, and more.  You can give by visiting our donation page.
Saturday – Cloudy with patchy light rain or drizzle developing.  Milder.  Windy at times.  High temperatures in the upper 50's.  South winds of 10-25 mph.  Rainfall totals of less than 0.05″
Saturday night – Cloudy with a chance for drizzle or a light shower.  Windy at times. Temperatures holding in the 50's.  South winds at 10-25 mph.  Gusty at times.  Chance of rain 30%.  Rainfall totals of less than 0.05″
Sunday – Cloudy with a chance for light showers.  High temperatures in the 60's.  Southwest winds at 10-25 mph.  Chance of rain 30%.  Rainfall totals of less than 0.20″

Sunday night – Cloudy with patchy light rain and drizzle.  A brief period of moderate rain will be possible as the cold front approaches.  Rainfall totals of 0.10″-0.30″.

Monday – Cloudy with falling temperatures.  Patches of light rain turning to freezing drizzle, freezing rain, and sleet.  There could be some slick spots developing as temperatures fall.  High temperatures will occur early in the morning.  Temperatures will fall through the 30's by afternoon and evening.  Rainfall totals of 0.10″-0.20″.  A chance for a glaze of freezing rain on surfaces.
An explanation of what is happening in the atmosphere over the coming days.
Brief update today – read yesterdays post for more details on the Monday event.
Highlights…
1.  Cloudy and much milder the next 48 hours.
2.  Winds will gust 20-30 mph today into Sunday
3.  Temperatures crash late Sunday night into Monday.
4.  A wintry mix possible on Monday and Monday evening.  Lot of questions remain on timing of the precipitation change-over from rain to freezing rain/sleet.
Well, the warmer (milder) air is starting to push into our region.  This warmer air is going to help clouds and light drizzle develop through Sunday night.  Winds will pick up, as well.  I suppose the winds might make it feel a bit cooler than temperatures will show on the thermometer.
Even with this brief warm-up, temperatures will still only approach normal levels.  We will rise a few degrees above normal on Sunday.
Let's pull up the anomaly map for Sunday.  This map shows you how many degrees above normal temperatures will be on Sunday.  Lot of red on that map.  Scale is on the right side of the page.  You can also see the cold air bottled up in Canada.  Some of that cold air will move southward on Monday.  The core of the cold air will push off to our northeast.  But, we will feel the cold air to some extent by Monday and Tuesday.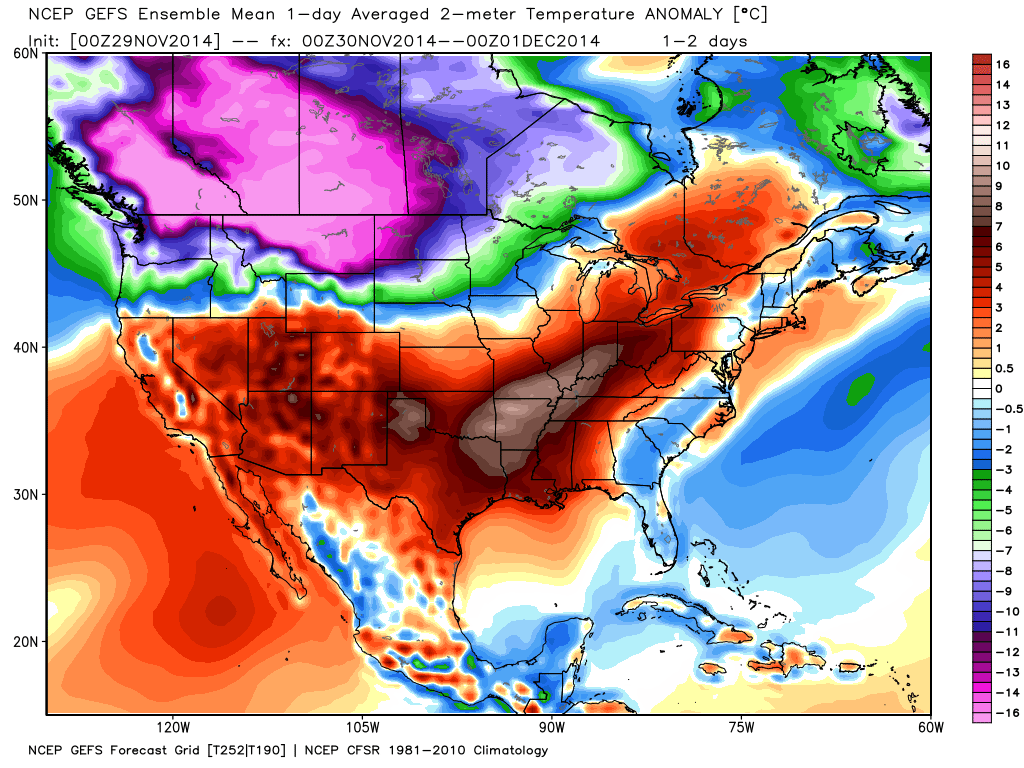 On Monday light precipitation will develop behind the cold front.  As temperatures fall, some of the precipitation will turn to sleet and freezing rain.  Accumulations should be light.  It only takes a little bit of freezing rain to cause problems.  Road temperatures will be a bit warmer because of the weekend milder temperatures.  So, it might take a little while longer for road surfaces to freeze.
Let's look at the Pro's and Con's of freezing rain/sleet developing
Pro's
1.  Cold air moves in quickly behind a cold front late Sunday night into Monday – temperatures will fall to at or below freezing from northwest to southeast through the day on Monday
2.  Moisture will develop and linger behind the cold front – in the cold air mass.
3.  Warm air aloft will prevent snowflakes from reaching the ground.  Thus, any precipitation that falls BEHIND the front will be in the form of freezing and sleet.
4.  Temperatures will fall into the 20's behind the front by late Monday afternoon and Monday evening.  This could cause black ice to develop where moisture remains on roadways.  Black ice is simply water that freezes on roadways after precipitation has stopped falling (but temperatures continue to fall).
Con's
1.  The precipitation will be light in nature and will be moving out as the cold air moves into the region.
2.  Road surfaces will be warm because of highs in the 50's and 60's on Saturday and Sunday.
3.  The freezing line may take longer to reach far southern IL and western KY than currently forecast.  Thus, the freezing rain and sleet would take longer to cause issues.
I am expecting at least some travel problems as temperatures continue to fall on Monday afternoon and evening. If you have travel plans on Monday then check back for updates.  Best chances for travel issues would be over parts of southeast Missouri and southern Illinois.  I will have to see how far south into Kentucky the sleet and freezing rain develops.  Again, highly dependent on temperatures.
I still need to fine tune the exact area of greatest concern on Monday.  I suspect the coldest temperatures will be situated from Poplar Bluff, Missouri to Evansville, Indiana.  Along and north of that line.  Areas south of that line should see temperatures fall below freezing by late morning and early afternoon.  Areas north of that line will fall below freeze during the early morning hours on Monday.
Let me show you that in graphic form…
The first map is showing you 4 am temperatures on Monday morning.  The blue area is 32 and below.
The second map is for 10 am on Monday morning.  You can see the colder air pushing southward.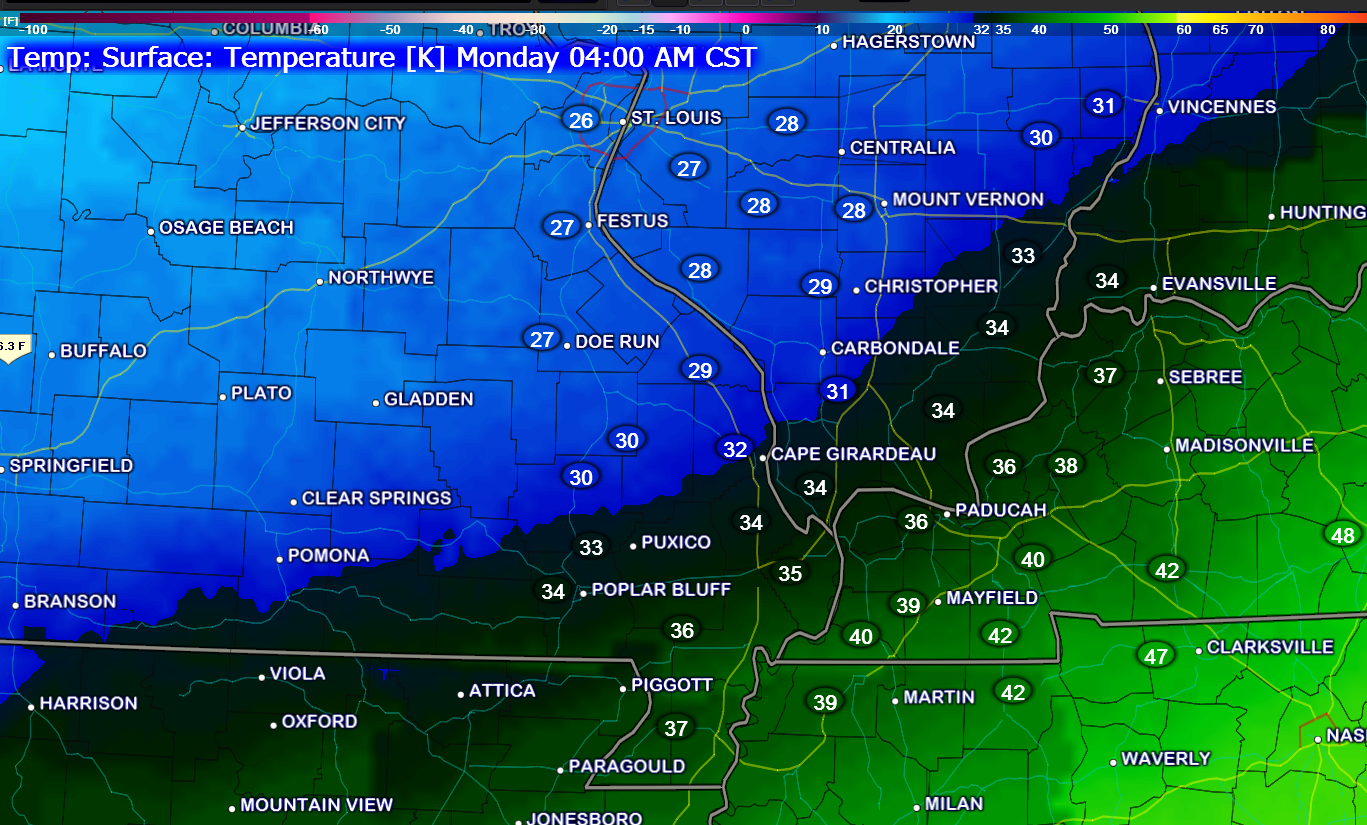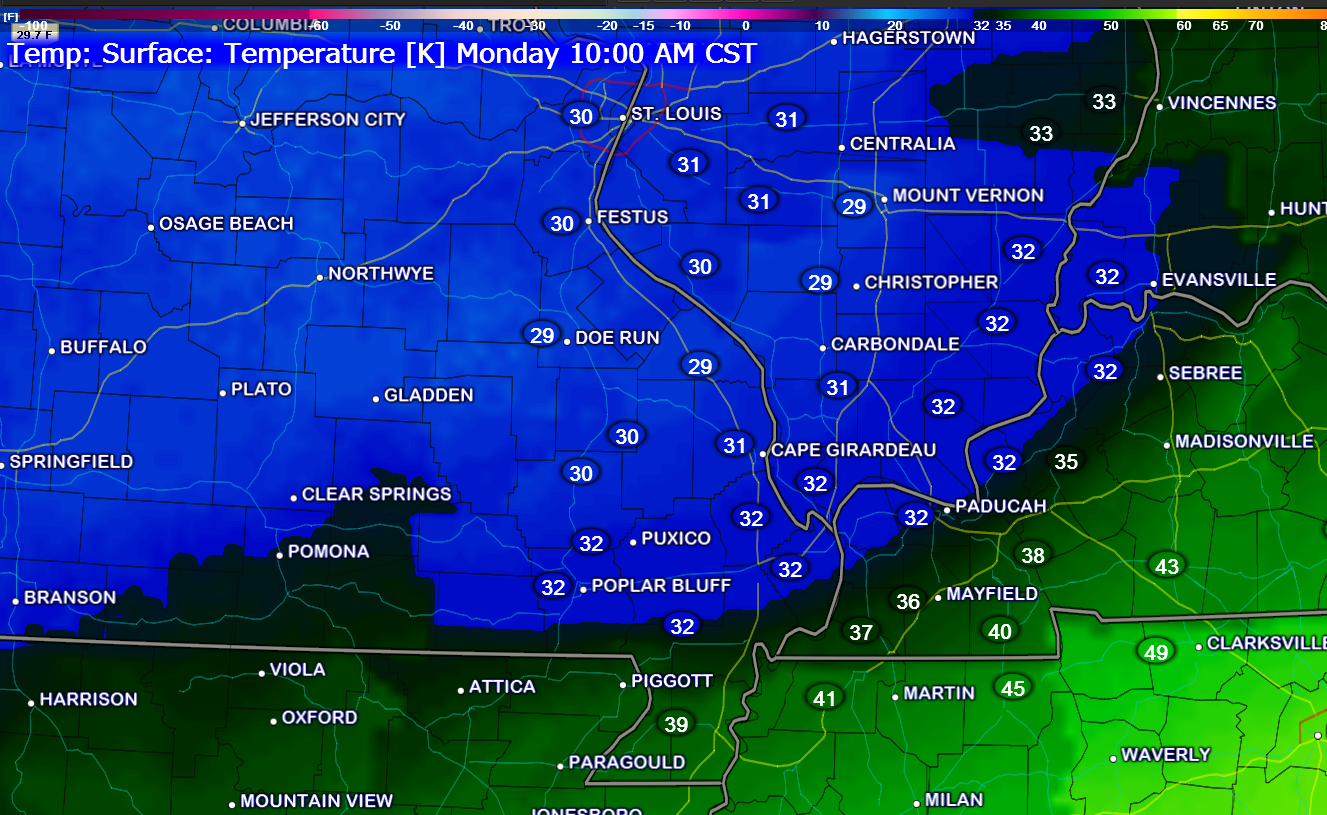 The speed of the cold air is still in question.  Thus, monitor updates as I fine tune the forecast. 

No significant changes in this update.  I did go ahead and add how much rain would possibly fall during each forecast period.
The main concern will arrive on Monday with the falling temperatures and light precipitation.  We may see some slick road conditions develop for part of our area by Monday late morning into the evening hours.
There remain a number of questions concerning just how fast the cold air arrives on Monday.  More confident for areas further north in the area (Poplar Bluff to Evansville) than areas further south.  Monitor updates.
The Wild Card gives you an idea of what might change that would cause the forecast to bust. A busted forecast means a forecast that does not verify. For example, if a winter storm (the area of low pressure) shifts its track 50 miles further south than expected, then that could cause a dramatic change in how much snow might or might not accumulate.

Wild card in this forecast – the wild card will be how fast temperatures fall on Monday morning. Tracking the 32° line will be key to what type of precipitation falls at any given location.  Temperatures will below freezing over our northern counties first (on Monday).  Temperatures will fall through the day on Monday.

Can we expect severe thunderstorms over the next 24 to 48 hours?  Remember that a severe thunderstorm is defined as a thunderstorm that produces 58 mph winds or higher, quarter size hail or larger, and/or a tornado.

Thunderstorm threat level is ZERO.

Will I need to take action?
Umbrellas might be in order over the weekend.  Some light rain and drizzle from time to time.
Monitor forecast updates for Monday concerning the chance for a light wintry mix of sleet and freezing rain.
We have regional radars and local city radars – if a radar does not seem to be updating then try another one. Occasional browsers need their cache cleared. You may also try restarting your browser. That usually fixes the problem. Occasionally we do have a radar go down. That is why I have duplicates. Thus, if one fails then try another one.

If you have any problems then please send me an email beaudodson@usawx.com

WEATHER RADAR PAGE – Click here —

We also have a new national interactive radar – you can view that radar by clicking here.

Local interactive city radars include St Louis, Mt Vernon, Evansville, Poplar Bluff, Cape Girardeau, Marion, Paducah, Hopkinsville, Memphis, Nashville, Dyersburg, and all of eastern Kentucky – these are interactive radars. Local city radars – click here
NOTE:  Occasionally you will see ground clutter on the radar (these are false echoes).  Normally they show up close to the radar sites – including Paducah.
Please visit your local National Weather Service Office by clicking here. The National Weather Service Office, for our region, is located in Paducah, Kentucky.
How much rain should this system produce over our region?
This is the rainfall forecast from this morning through Sunday at 6 pm.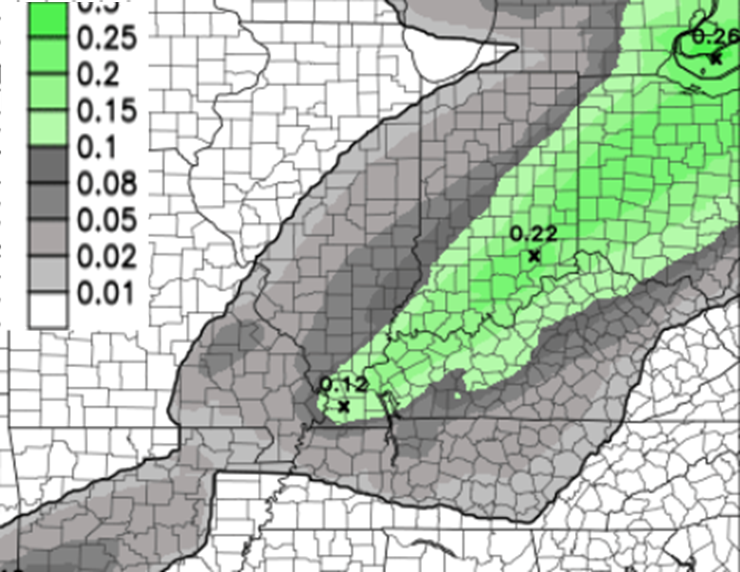 Let me pull up another map view that shows NWS forecast totals for today through Sunday evening.  The second evening then adds in what falls after 7 pm on Sunday.  The scale is at the bottom of the page.  The light green is 0.01″-0.10″ of precipitation.
Image from www.weatherbell.com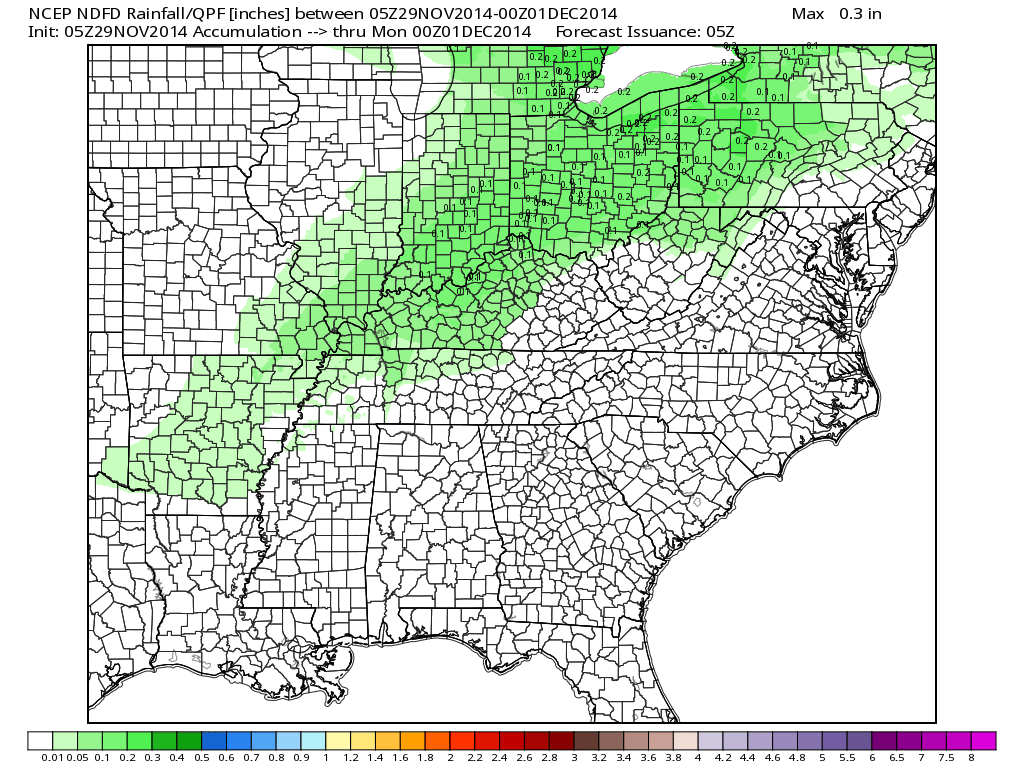 Now this image below is through Monday night.  The dark green represents 0.30″-0.50″ of precipitation.  That would be from today through Monday evening.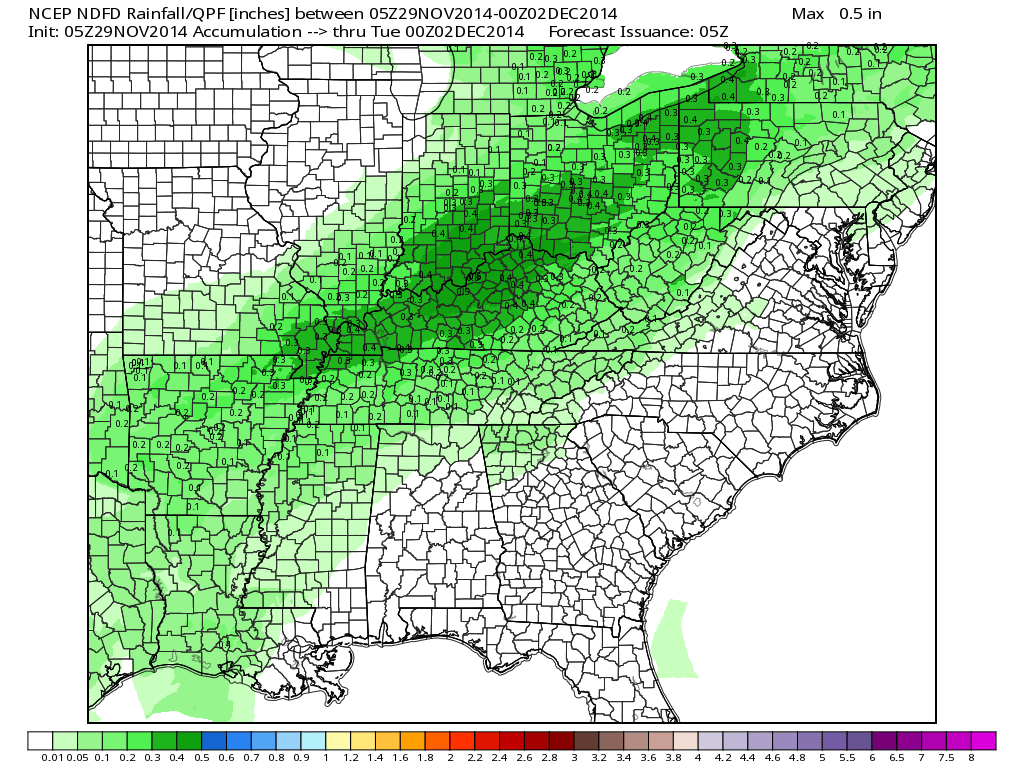 A wintry mix will be possible on Monday into Monday evening.  A mixture of sleet and freezing rain will develop over portions of southeast Missouri and southern Illinois.  The first hint of this should be early on Monday morning along a line from Farmington, Missouri to Mt Vernon, Illinois.  The precipitation will then develop and spread southward through the morning hours.  The wintry mix should enter western Kentucky between 11 am and 3 pm.
The timing of this event will need to be fine tuned as we move forward.  The impact of the event is also questionable since road temperatures might be above freezing for a period of time.
What could go wrong with the Monday forecast?
The timing of the cold air.  If the cold air is faster or slower than anticipated then forecast adjustments will need to be made.  My confidence in how Monday unfolds is moderate.
Right now it appears actual precipitation totals will be on the light side.  However, any sleet and freezing rain can cause travel problems.  Bridges and overpasses will develop ice first.
Monitor updates as we move forward.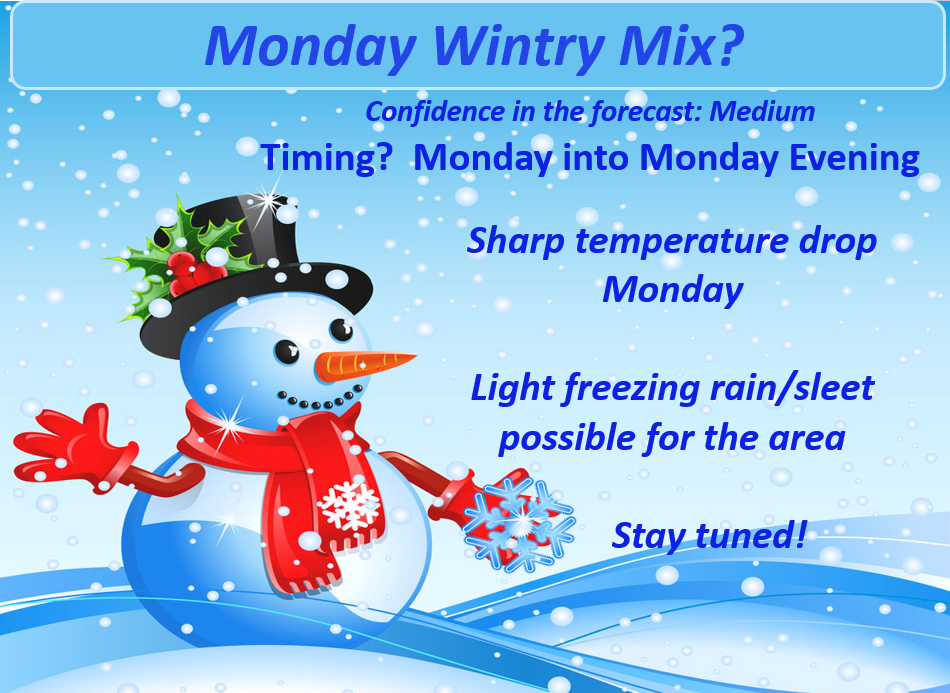 We will have a bit of a roller-coaster ride in the weather department over the coming 7-10 day period.  Temperatures are going to swing back and forth between mild and cold.
We could see a few shots at precipitation.  The first being the one discussed above.  Another chance for precipitation arrives around Wednesday night or Thursday.  Right now it does appear this precipitation will be on the light side.
Longer update tonight or Sunday morning.  Running behind.  🙂
Many of my graphics are from www.weatherbell.com – a great resource for weather data, model data, and more


This blog was inspired by ABC 33/40's Alabama Weather Blog – view their blog
Current tower cam view from the Weather Observatory- Click here for all cameras.
WSIL TV 3 has a number of tower cameras. Click here for their tower camera page & Illinois Road Conditions
WPSD TV 6 has a number of tower cameras. Click here for their tower camera page & Kentucky Road Conditions & Kentucky Highway and Interstate Cameras
Benton, Kentucky Tower Camera – Click here for full view
You can sign up for my AWARE email by clicking here I typically send out AWARE emails before severe weather, winter storms, or other active weather situations. I do not email watches or warnings. The emails are a basic "heads up" concerning incoming weather conditions.