Beau Dodson Weather Talk has been pulling together a great forecast team to meet your needs.   A new website will be ready later this summer or early fall.  The sign-up process will be easier.  You will find additional features on the web-site which will include weather maps and radars.  A new video page will offer you several videos each day.  The videos are carefully prepared by a team of meteorologists that I have grown to trust.
The app is being overhauled and will soon include the weather videos and radars.  The goal is to have the updated app ready by late summer or early fall.
We have added agriculture videos for farmers and gardeners.  The videos are produced one to two times each day Monday through Friday.
You can currently view the videos on the Video Cast Page.  If you think you might have missed an update then you can also visit the Live Feed page.  This page will show you the days activity.  This will include links to all of the videos, blog posts, and Facebook updates.
Many of the agriculture and long range outlook videos are being produced by the BAM Weather team.  An amazing team of meteorologists located in central Indiana.
Here is the team of meteorologists that I hope you will come to trust.
Beau Dodson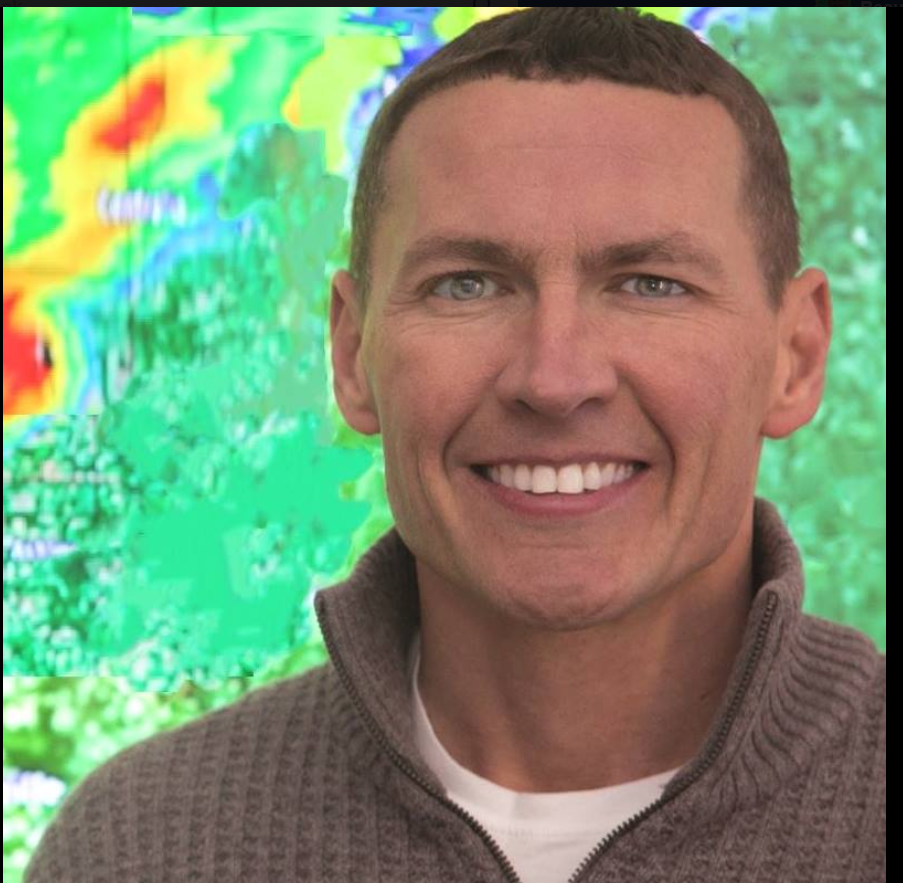 Beau is from Massac County, Illinois.  He grew up near Round Knob on a family farm.  He is currently living in both Massac County and Chicago, Illinois.
Beau is the founder of Weather Talk LLC and the Southern Illinois Weather Observatory.  He attended Mississippi State University and holds a Bachelor's of Science Degree and a broadcast meteorology degree.  Beau has been interested in weather since he was eight years old.  He would carry his weather radio to school each day.  In grade school he was already giving talks to younger children about severe weather safety.
Beau is the recipient of the Mark Trail Award, WPSD Six Who Make A Difference Award, Kentucky Colonel, and the Caesar J. Fiamma" Award from the American Red Cross.
In 2005 he helped open the largest American Cross shelter in U.S. history in Houston, Texas.  He was deployed to help after Hurricane Katrina and Hurricane Rita.  He was a shelter manager of one of the Houston, Texas shelter divisions.
In 2009 he was presented with the Kentucky Office of Highway Safety Award.
He was recognized by the Kentucky House of Representatives for his service to the State of Kentucky leading up to several winter storms and severe weather outbreaks.
If you click on the image below you can read the Kentucky House of Representatives Resolution.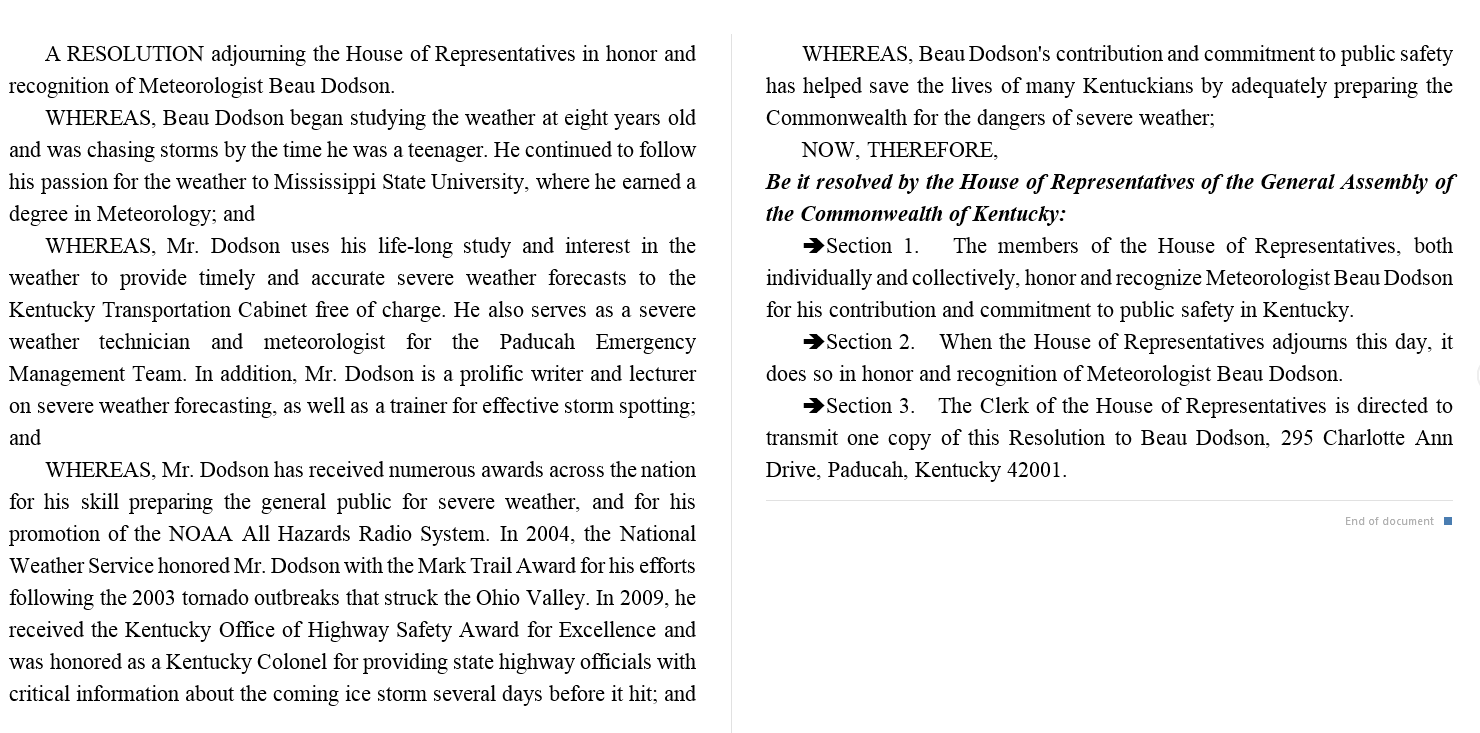 Beau is a strong believer in paying it forward.  He is active in community charity projects.  He is president of the Shadow Angel Foundation which serves portions of western Kentucky and southern Illinois.  You can view some recent projects on the Beau Dodson News page.
Beau's forecast philosophy is simple and straight forward.
Communicate in simple terms
To be as accurate as possible within a reasonable time frame before an event
Interact with you on Twitter, Facebook, email, texts, and this blog
Minimize the "hype" that you might see on some television stations or through other weather sources
Push you towards utilizing wall-to-wall LOCAL TV coverage during severe weather events
Here is the BAM Weather team!  They have been hired to help with videos and graphics.  I think you will grow to love both their style and passion.

Michael Clark
Michael Clark is from Whiteland, Indiana currently living in Indianapolis, Indiana. He is one of the co-founders of BAM. He attended Mississippi State University and majored in operational meteorology. Meteorology has been a passion of his since the 2nd grade. In Michael's free time he likes to deer hunt, workout, golf and fish with family and close friends. He also enjoys staying up to date with any major weather events across the globe.
Kirk Hinz
Kirk Hinz grew up in Plymouth, IN, which is about 20 minutes south of South Bend, IN (go Irish!), he currently lives in Indianapolis, which has been his home for the past 4 years. He started with BAM in early August 2016. He studied at Ball State University where he majored in professional meteorology and a minored in emergency management homeland security. Since he was about 5 years old, he has had an extreme fascination for all things weather. There was never a time where growing up he didn't have the Weather Channel on or that he wasn't begging his dad to go outside and watch the storms roll in. He couldn't image not following that passion as a profession, so here he is! In his spare time he enjoys sailing with his wife and her parents, playing tennis, storm chasing, exercising, reading, grilling out, travelling to new places and visiting with his family up in northern Indiana.
Ed Vallee
Ed grew up in southern New England and was mesmerized by the unique and impactful weather the region had to offer. He then attended Lyndon State College in Vermont and received a Bachelors of Science in Atmospheric Science. Having previously worked for one of the largest forecasting firms in the world, Ed arrived at BAM with experience ranging from short term forecasting to sub-seasonal energy and agriculture forecasting. He is excited to provide exemplary customer service and provide you with the most accurate, personable forecast on the market as apart of the BAM team.
Amanda Kilgore
Amanda Kilgore is one of the co-founders of BAM. She is originally from Milwaukee, WI, grew up in Whiteland, IN and currently lives in Greenwood with her husband Bryan. She attended University of Indianapolis where she majored in Biology and Regency Beauty Institute where she received her license in cosmetology.  She has always loved biology and learning about the biological world around us. She went into cosmetology because she loves helping people and wanted to help people look and feel good about themselves.  She likes relaxing around bon fires, playing card and board games, working out and just being around friends and family.  Bryan and Amanda recently welcomed their first child on July 19th, 2016 so they spend all of their free time enjoying Patrick's great company.
---
The Fire Horn Team
Weather Talk LLC is partnered with The Fire Horn located in Paducah, Kentucky.